We're sorry to hear that. It is almost a guaranteed fact of human existence that we'll each have a phone that will break in our lifetime, and a broken screen is one of the most annoying things. When a phone breaks on us, the main issue is spending as little money as possible to be back with a working phone again—good news to those with phone insurance.
Writing a step-by-step plan to help you save money seemed like a good idea. Try to follow these steps to save the most money—and time—possible. The earlier in the list you find a viable solution, it's likely the less money you'll spend on being back together with a working phone.
Table of contents
1. Google it
2. Take it back to the store
3. Claim on the insurance
4. Wait for your upgrade
5. Repair it yourself
6. Get a third party to fix it
7. Get the manufacturer to fix it
8. Buy a certified refurbished phone
9. Buy a new phone
Frequently asked questions

Are broken smartphones worth anything?
Is it cheaper to repair or replace a phone?
Does Apple buy broken iPhones?
1. Google it
First, you want to Google the issue you're having. Maybe the phone is frozen on the lock screen, the liquid is leaking from the charging port, or the flash isn't working.
Googling the issue can often help you find people with similar issues and what they did to fix them. You can take their advice before continuing with this list.
For instance, sites like Quora and Reddit usually appear in Google's search results with the same questions you may have and the solutions other people found in their situation.
You may also be able to find useful information about how to repair a broken cell phone, buy screen protectors, or find a phone repair shop, as we will see next.
2. Take it back to the store
If there is anyone that should be able to give you the correct advice on the issue with your phone, it should be the place you bought it from.
This is most likely if you purchased it directly from the manufacturer. Visit their store, and they should be able to assist you in fixing the problem. For example, Apple has the Genius Bar, which troubleshoots user device problems.
Wherever you get your phone from, they should be able to give the best advice on the problem and what to do with it. However, don't take their advice blindly as sometimes they won't give you the cheapest solutions to the problem.
A manufacturer may say it is best to get your broken phone screen replaced by them, but it may be cheaper to get it fixed elsewhere if you have the chance.
3. Claim on the insurance
If you had insurance, check if they cover the issue you're having with your phone. If they do, you can claim on the insurance. This is likely to be in the form of a replacement phone or cash.
A broken phone screen may not be covered in some programs, but a defective device that hasn't been rooted or jailbroken should be enough reason to get a new model or a repair for free.
Some manufacturers even offer replacements while your handset is being repaired, but don't think about the most modern phones.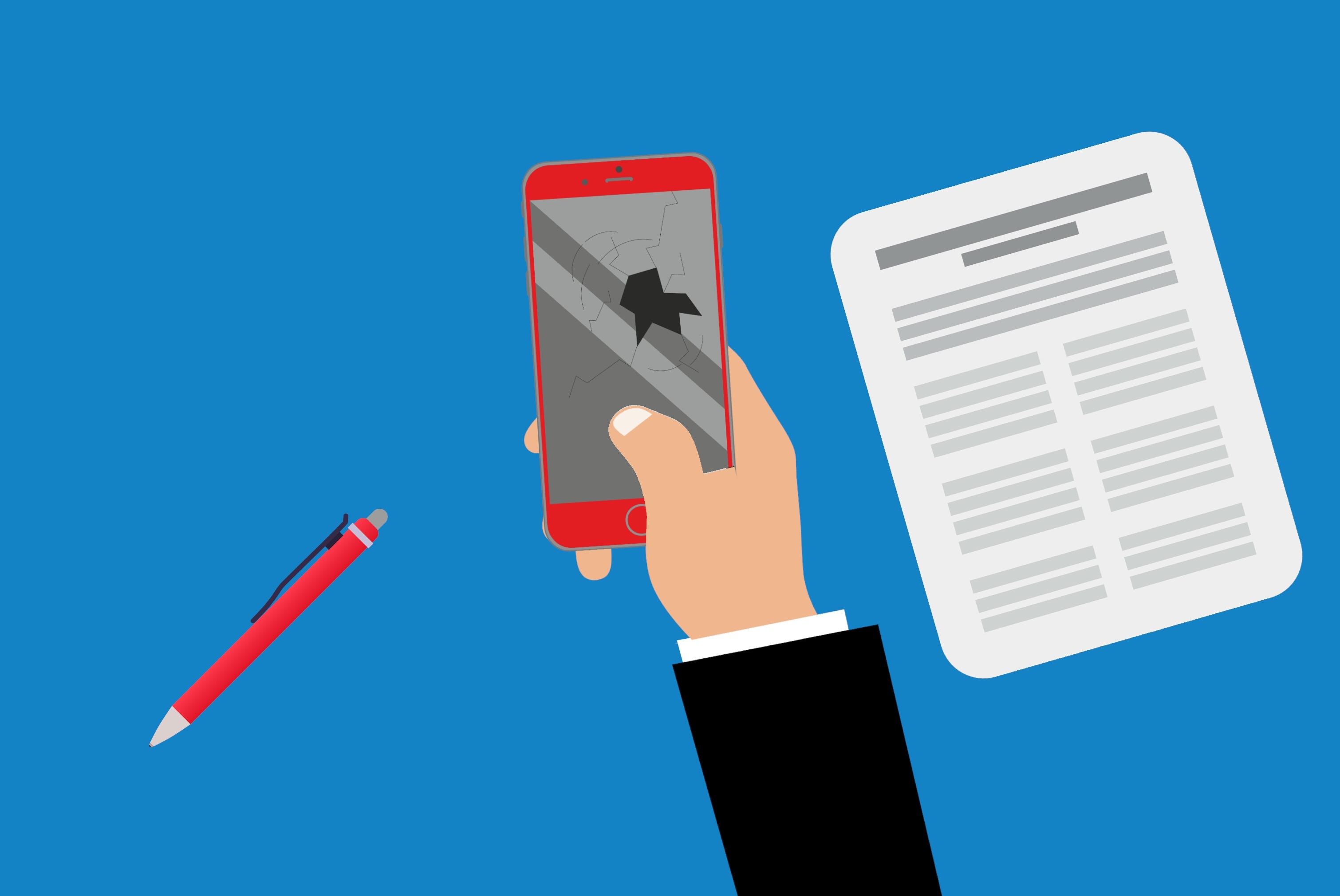 4. Wait for your upgrade
If you are using a broken phone mid-contract with a carrier, try to determine when you are eligible for an upgrade. Then you will be able to determine if you can cope with your broken handset until that date. When you upgrade to your new phone, you can sell your broken device to a company that buys them for money to refurbish or other purposes.
5. Repair it yourself
This isn't the easiest option, but it can definitely save you a lot of money if your phone needs repair. We recommend using a website like iFixit to find out how to fix a specific problem.
From then on, you will have to purchase any needed parts for the fix, including specialist tools. You can then go ahead and fix your broken phone.
It's worth noting that, even though this option can save you money, there are many risks with fixing it by yourself—such as accidentally breaking other parts of the phone. If attempted incorrectly, you can end up making the phone worse off than it was in the first place.
If you have an iPhone, you can also check the new Apple Self Service Repair Program and see if you can save money repairing it yourself.
6. Get a third party to fix it
You can always get a third party to fix your broken phone. We define a third party as a company that offers services for repairing your phone model that isn't the original phone manufacturer. They can be a great option because these companies will often quote significantly lower repair charges than the manufacturer for precisely the same quality fix.
We recommend you check out the business on a reviews website beforehand, such as Yelp, to ensure that they provide quality services to their customers.
7. Get the manufacturer to fix it
Of course, you can always ask the original manufacturer to repair your phone. This is especially a good option if the phone is under warranty and the break was a manufacturing fault. However, you probably wouldn't be this far down on the list if that were the case.
In most broken phone cases, where the phone isn't under warranty or the warranty doesn't cover the repair, the manufacturer will fix the phone for you for a high price. Still, you can be assured that it will be a high-quality fix and usually come with a warranty period on that part of the phone.
8. Buy a certified refurbished phone
If fixing your phone isn't an option, or if it is looking costly, you are best off looking to buy a refurbished phone. Refurbished phones start at low prices and high discounts.
Thankfully, certified refurbished electronics are of the same functional quality as new products. A refurbished phone you buy will have passed the same or similar quality tests as a new phone, except it will be much cheaper!
On RefurbMe, we compare hundreds of refurbished devices from several reputable sellers. Have a look at some refurbished iPhones below to have a better idea:
If you want to learn more, check if Apple refurbished is worth it with these facts. We have also pointed out the differences between manufacturer refurbished vs. seller refurbished in detail.
9. Buy a new phone
And, of course, you always have the option of buying a brand-new phone straight from the manufacturer, a carrier, or a retailer. Obviously, this is the most expensive option, and you need to calculate if it's worth the money for a broken phone screen or minor device damage.
If you have a beautiful working phone with a broken screen, try to stop the crack from spreading. If your device is defective, try to follow the possible solutions in this article in order. Good luck!
Frequently asked questions
Here are the answers to three of the most frequently asked questions about broken phones.
Are broken smartphones worth anything?
Yes. Some companies buy broken phones to refurbish them and put them on sale again for a higher price. These devices can cost a considerable amount of money even if they are defective or their screen is broken, although there's an obvious limit to their condition.
Is it cheaper to repair or replace a phone?
It's usually cheaper to repair a phone, although this is not the case in some situations. The choice between repairing and replacing it highly depends on your smartphone's model and damage. For instance, if most hardware parts are broken, and a warranty does not cover you, a brand-new handset could cost you less than the actual shipping costs and repair service.
Does Apple buy broken iPhones?
Apple has a Trade In Program, but a broken iPhone has no value for them, and it can only be recycled for free. In this case, we suggest you look for companies who can actually buy broken phones they later refurbish. If the phone has minor imperfections and everyday usage marks, you could sell it to Apple, although we strongly recommend considering the refurbished alternative.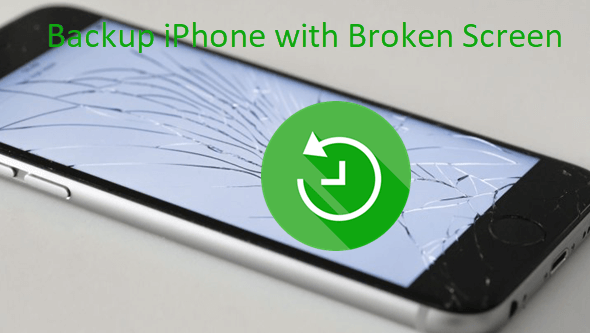 Q: How to backup an iPhone with a broken screen?
"I broke the screen on my iPhone 7 and I haven't backed up any data from it. The phone is still alive. I can hear Siri if I hold the Home button, but it has a passcode and gets locked. So when I plug it in computer, iTunes is not able to recognize it. Is there any way to backup iPhone with broken screen and passcode?"
What's worse than having your iPhone screen cracked? Yes, the photos, contacts, videos and other personal data are not yet backed up. In this case, it is urgent to get important data off broken iPhone and make a backup before repairing the device itself. How to backup iPhone if screen is broken? Have no idea what to do? Here we will browse through different situations to access iPhone with broken screen and get it backed up. Just read on the post and discover how to recover data from broken iPhone, including iPhone 11, iPhone 11 Pro, iPhone 11 Pro Max, iPhone 11, iPhone XR, iPhone XS/XS Max, iPhone X/8/7/6s, iPad Pro, iPad Air, etc. running on iOS 13/12.
Situation 1: If Your Broken iPhone Have Trusted a Computer Before
Situation 2: If Your Broken iPhone Have Never Trusted Any Computer Before
Extra Tip: Retrieve Pictures and Data from iCloud, Google Drive or Dropbox
Situation 1: If Your Broken iPhone Have Trusted a Computer Before
If you have trusted a computer before your iPhone screen is broken or locked, then you are lucky. You can simply connect your broken iPhone to the trusted computer and use iTunes to perform a regular backup. Follow the steps below:
Open iTunes and wait for it to recognize the broken iPhone, then click on the device icon on the top left of the screen.
Select Summary from the left sidebar and choose "This computer" under Automatically Back Up.
If necessary, check the box for "Encrypt local backup" to create a password to protect your backups.
Now click on "Back Up Now" to start the backup. And the backups will be stored locally on your PC or Mac.

How to Get Pictures and Data Off Broken iPhone with Passcode
It is really simple to backup broken iPhone with iTunes if you have trusted a computer before. However, it still has some limitations. For example, the entire backup data will be encrypted in unreadable formats. You can't view the files in the backup unless you restore it to an unbroken iPhone or iPad. Don't be upset! There is an alternative way to backup iPhone with broken screen and locked.
Gihosoft Free iPhone Recovery is a powerful tool that helps you to get data off broken iPhone to computer and save then in readable formats, including Pictures, Texts/iMessages, Contacts, Notes, WhatsApp, Viber, Voice Memos, Safari History, Calendar & Reminders, etc. Using it, you can directly backup iPhone with broken screen or extract data from iTunes backup files. Plus, you can preview the files in details and select your desired data before the backup & restore process.


Steps to backup & recover data from iPhone/iPad with broken screen:
Step 1. Run the software on the computer that your broken iPhone/iPad trusted.
Step 2. Connect the cracked device to PC/Mac. Start to scan the device if the utility detects your iPhone. Or skip to select an old iTunes backup file to extract data.
Step 3. Preview and retrieve photos, contacts, text messages, videos, etc from broken iPhone or iPad and save them as backups on computer.

Note: To use the iPhone data recovery program, it is important to connect your iPhone to a computer which it has trusted before, or your iPhone screen is not completely broken allowing you to tap and trust a computer. Otherwise, your iPhone won't be recognized and the program will only show you the options of iTunes and iCloud backup recovery.
Situation 2: If Your Broken iPhone Have Never Trusted Any Computer Before
If unfortunately, you haven't enabled the "Trust This Computer" option before on your broken device, then both your computer or iTunes won't be able to recognize the iPhone. Though it is hard to enter password or trust computer on an iPhone with broken screen and locked, it doesn't mean it is impossible.
Here are your options to access iPhone with broken screen and passcode for backup and recovery:
Fix the screen and back up once the device lets you tap in the unlock code.
Use a bluetooth keyboard (which was already paired) to enter the password.
In case one small area of the screen still works and you can enable Voiceover mode:

 Hold Home key to turn on Siri and ask Siri to turn on VoiceOver
Swipe right/left until 'Slide to Unlock' is selected
Double-tap then the passcode page comes up
Swipe right/left to enter the passcode by double-tapping each number
If asked 'Trust This Computer', double-tap the 'Trust' button. Then you can backup & retrieve data from broken iPhone/iPad through method one.
Notes: It depends on the extent of the damage. If the broken screen is totally black, or your iPhone becomes completely dead, you'll get it repaired first.
Extra Tip: Retrieve Pictures and More Files from iCloud, Google Drive or Dropbox
Some cloud storage like iCloud, Google Drive and Dropbox provides a way to backup your important files to its cloud server. When you broken iPhone/iPad, don't forget to check for lost data on their official site. Let's take the iCloud for example:
Open the web browser on computer and go to iCloud.com.
Sign in to iCloud. There you can view pictures, videos, contacts, notes, reminders and the records of iCloud backup in Settings.
You may simply be able to sync data back to another iOS device from the iCloud backup.

A broken screen or a faulty home button. You see it more and more. It's not a pretty sight, but it also shortens the life and ease of use of your iPhone. Read here about the three ways in which you can repair your iPhone cheaply and sustainably.
Support iPhoned
You are using an ad blocker. We think that's a shame, because we need advertisements to offer our articles for free. Support iPhoned by adding us to your whitelist. Thank you in advance!
What to do with a broken iPhone
An iPhone has a robust design but is certainly not indestructible. You don't pay attention once and the beautiful display gets acquainted with the hard ground. The result: a cracked screen, a broken home button or something worse.
These are all symptoms of an iPhone in need of repair. Fortunately, many of these are easy to do yourself. With the repair you ensure that the life of your iPhone is extended. This way you not only save money, but you are also sustainable. Moreover, you also learn something from it.
Not sure if your iPhone is easy to repair? Then we have an overview of the most common problems and repairs to help you on your way. You can also count on Apple this year, because it is expected to make iPhone parts available to repair your phone itself.
Whether you do it yourself or not, if you're stuck with a broken iPhone, here are the three options. With this you will have a working iPhone in your hands in a short time.
#1 Fix it yourself
The first option is to tinker with your broken iPhone yourself. Provided you have the necessary experience of course. Many videos and guides can be found online with the necessary instructions for repairing specific iPhone models and parts.
If you don't have this experience, the risks are greater than the pay-off. This can damage your iPhone beyond repair. In addition, your warranty will expire as soon as you open the housing of the iPhone yourself. That said, one more caveat: if you decide to repair yourself, always use genuine iPhone parts. View below the shops where you can go if you want to repair your iPhone yourself:
FixjeiPhone: for necessary parts and tools
bol.com: for ready-to-use repair kits per part and other supplies
#2 Have it repaired
If you find it too great a risk to repair your own iPhone, you can of course also choose to have it repaired. You can contact an authorized Apple Service Provider for this. These parties have enough experience and parts in-house to be of service to you.
An example of an authorized service provider is Coolblue. This way you keep your warranty and you can use your phone again with peace of mind. Note that not all repair services are officially licensed by Apple. View below the different options where you can go for the repair of your iPhone:
cool blue: in store within two hours and dispatched within five days
amac: fifty service locations across the country
Media Markt: delivered your repaired iPhone within 48 hours
Support iPhoned
You are using an ad blocker. We think that's a shame, because we need advertisements to offer our articles for free. Support iPhoned by adding us to your whitelist. Thank you in advance!
#3 Preventing damage is better than repairing
We all know the expression: prevention is better than cure. The same goes for your iPhone. By taking a few simple steps you will prevent cracks, tears and similar damage. And of course you will be spared the repair costs.
You are probably already familiar with screen protectors that you apply to the screen. These take all scratches, cracks and tears instead of your actual screen. But did you also know that there are special tempered glass screen protectors that protect against direct impact? And others that are only adequate for scratches?
However, these protectors offer zero protection against damage to the side or back of your iPhone. And here too, annoying dents, scratches and even cracks can occur. That is why we always advise you to first use a phone case for optimal protection. In combination with a screen protector, your iPhone is almost impossible to break. So check out the offers below:
Smartphone covers with (fall) protection up to 5 meters
Screen protector with tempered glass
Is your iPhone beyond repair?
Don't worry if your iPhone beyond repair has been declared. He's had his best days. But before you order your new iPhone, we would like to introduce you to a more sustainable and cheaper alternative: a refurbished iPhone. This is much better for the environment and your wallet.
A refurbished iPhone has had the necessary refurbishment with new parts and repairs. This way it can last even longer and performs properly. In addition, you also have a two-year warranty, unlike a second-hand device.
View the best refurbished deals
by Jenefey Aaron   Updated on 2020-03-20 / Update for  iPhone Fix
Unfortunately dropped your beloved iPhone and got the screen cracked or totally shattered? iPhone is remarkable for its light and handy but also it is susceptible to broken screen. So, how to fix broken iPhone screen? Here we introduce 3 tips on how to fix your cracked iPhone 6s (Plus)/6 (Plus)/5s/5c/5/4S screen. Hope it helps you out.
Situation 1: Your iPhone is Under 1st Year Manufacturer's Warranty
Situation 2: Your iPhone is Covered by AppleCare+
Situation 3: Your iPhone is Out of Warranty
Situation 1: Your iPhone is Under 1st Year Manufacturer's Warranty
Unfortunately, apple's 1st year manufacture warranty doesn't apply to damage caused by accident, abuse, misuse, liquid contact, fire, earthquake or other external cause, which means Apple will not response for your broken screen, and you still have to pay the same replacement cost as being out of warranty if you need to repair it.
In this case, you can take it to an Apple store, call AppleCare at 1-800-APL-CARE (1-800-275-2273) or go to getsupport.apple.com, if you are far away from an Apple store. Apple will replace your device for a reasonable cost (we list the detailed cost under Situation 2).
Note:You'd better not fix your iPhone in some local repair store because Apple will not be responsible for your device anymore if you go somewhere else. Moreover, cheap screens and parts seem to have a tendency to break more often than official Apple parts.
Situation 2: Your iPhone is Covered by AppleCare+
AppleCare+ for iPhone is a service produced by Apple extends your coverage to two years from the original purchase date of your iPhone and adds up to two incidents of accidental damage coverage. You need to pay $79 for iPhone 5c, iPhone 5s, iPhone 6, and iPhone 6 Plus, or $99 for iPhone 6s and iPhone 6s Plus.
Since AppleCare+ covers two incidents of accidental damage, if your iPhone screen is broken, you can pay a service fee and get a replacement at Apple Store.
Price for iPhone Screen Damaged Repair
| | With AppleCare+ | Without AppleCare+ |
| --- | --- | --- |
| iPhone 6s Plus | $ 99 | $ 149 |
| iPhone 6s | $ 99 | $ 129 |
| iPhone 6 Plus | $ 79 | $ 129 |
| iPhone 6 | $ 79 | $ 109 |
| iPhone 5s, iPhone 5c | $ 79 | $ 129 |
| iPhone 5 | $ 49 | $ 129 |
Situation 3: Your iPhone is Out of Warranty
If you are out of warranty and didn't buy the AppleCare+, just take your device to the Apple store and also as we mentioned in situation 1, don't take iPhone in some local repair store.
Before taking your device to Apple, make an appointment at an Apple Store or one of Apple authorized service locations, and be sure to back up your iPhone before you take it to fix.
Related Article:

What to do before you sell, give away, or trade in your iPhone or iPad

Looks like no one's replied in a while. To start the conversation again, simply
ask a new question.
My iPhone 6 screen went black and cannot be fixed. Apple already sent me a replacement phone but I need to erase the contents of the old phone before returning. I've tried to do so in iTunes while doing the power button and volume down button procedure. Nothing happens and I do not get message on computer about phone in recovery mode. Can someone tell me a FOR SURE way to delete contents? I've been messing with this for days and its driving me crazy .
Thank you!!
iPhone 5,
iOS 6
Posted on Sep 4, 2017 9:46 AM
need to delete broken iPhone 6 before returning