Дата обновления: 23 декабря 2022
Каждый из нас делает снимки на телефон, но не всегда они получаются удачными. На помощь приходят бесплатные фоторедакторы для Айфон. Их очень много, поэтому часто бывает трудно решить, какой из них больше подойдет. Чтобы упростить поиски, мы сделали подборку из лучших приложений для обработки изображений.
Посмотрите видео, чтобы узнать про самые популярные фоторедакторы:
Скачайте редактор на iPhone с мощными
инструментами для качественного улучшения портрета
Скачать бесплатно!
1. Snapseed
Snapseed — популярное приложение с функциями фотошопа для Айфона от компании Google. Snapseed содержит более 29 инструментов и фильтров:
Обработка RAW. Не нужно предварительно переводить файлы в формат JPEG, можно сразу же приступить к редактированию.
Коррекция и кривые. Ручная настройка яркости, контрастности, насыщенности, светового баланса и других параметров.
Резкость и зернистость. Улучшение качества изображения за счет увеличения резкости. Создание эффекта фотопленки или старого экрана за счет зернистости.
Баланс белого. Изменение температуры и оттенка фотографии.
Точечная коррекция и кисть. Они позволят аккуратно затемнить или высветлить только определенные участки изображения.
Перспектива и расширение. Эти инструменты помогут исправить искажения на фотографии. Приложение самостоятельно заполнит пустые края снимка.
Двойная экспозиция. Возможность объединить две картинки на одном снимке.
Ретушь лица. Сглаживание кожи, добавление определенного освещения.
В программе можно сохранить фильтры для обработки серии снимков, что является очень полезной функцией для блогеров, оформляющих свои ленты в едином стиле. На всех этапах редактирования возможен просмотр и отмена изменений. Перечисленные функции делают Snapseed одним из лучших приложений на Айфон для блогеров.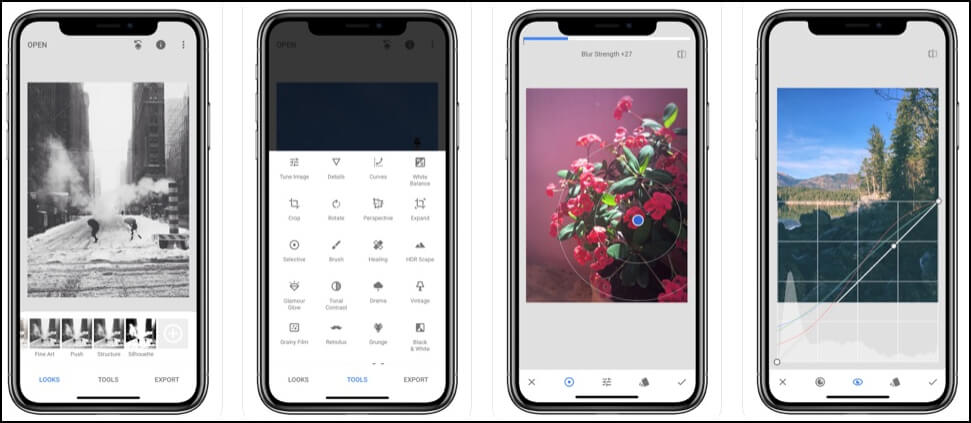 Интерфейс Snapseed
2. PhotoDiva
PhotoDiva — мощная программа с возможностями фотошопа на Айфон от отечественного разработчика AMS Software. Оно ориентировано на работу с портретами и предлагает широкий функционал для качественного улучшения фотографий:
Полноценная ретушь лица: разглаживание кожи, отбеливание зубов, удаление тёмных кругов, повышение чёткости глаз.
Быстрое улучшение портрета: готовые пресеты, позволяющие за клик устранить блеск, добавить загар, придать яркости губам, сделать комплексное улучшение.
Наложение фильтров. Программа предлагает более 30 вариантов, включая винтаж, цветовое тонирование, стилизацию под фильмы.
Тонкая цветокоррекция: регулируйте теплоту, тон, сочность, насыщенность.
Работа с освещением снимка: легко и удобно настраивайте экспозицию и контраст, убирайте засветки и глубокие тени.
Инструменты обработки: кадрирование, выравнивание горизонта.
Украшение снимка. Добавьте солнечные лучи, цветовые блики, виньетку.
Редактор PhotoDiva – отличное решение, если вы любите делать селфи. Каждый портрет можно довести до совершенства всего за 5 минут.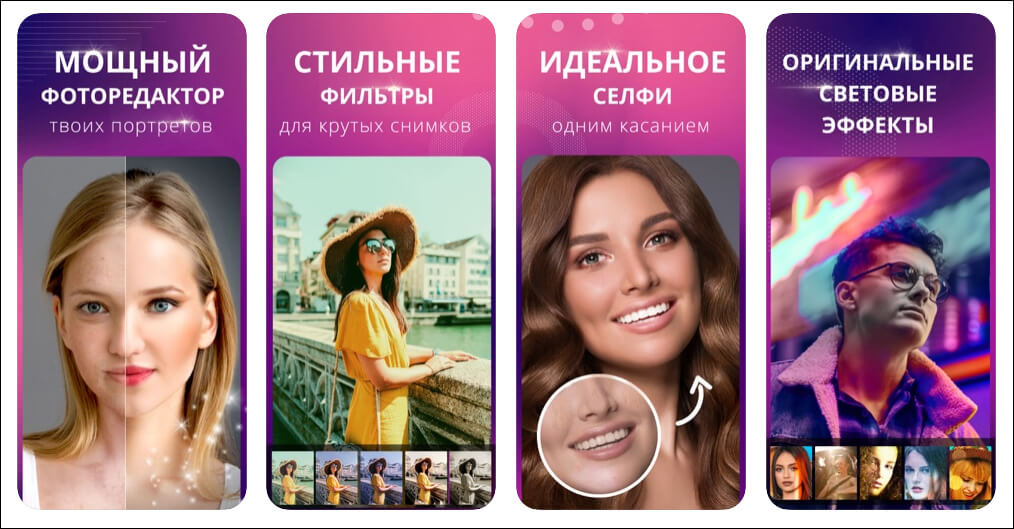 Интерфейс PhotoDiva
3. Adobe Lightroom
Adobe Lightroom — бесплатная мобильная версия популярного редактора, обладающая всеми преимуществами программы для ПК. Приложение поддерживает работу с облачным хранилищем аккаунта Adobe, что существенно экономит память устройства. Также есть возможность перенести любимые пресеты с компьютера на свой iPhone или iPad, что делает обработку снимков максимально простой.
В приложении можно:
применить стили к фотографиям,
настроить кривые,
скорректировать и улучшить цвета,
добавить резкости и текстуры.
Если базовых функций недостаточно, программа предложит премиум инструменты.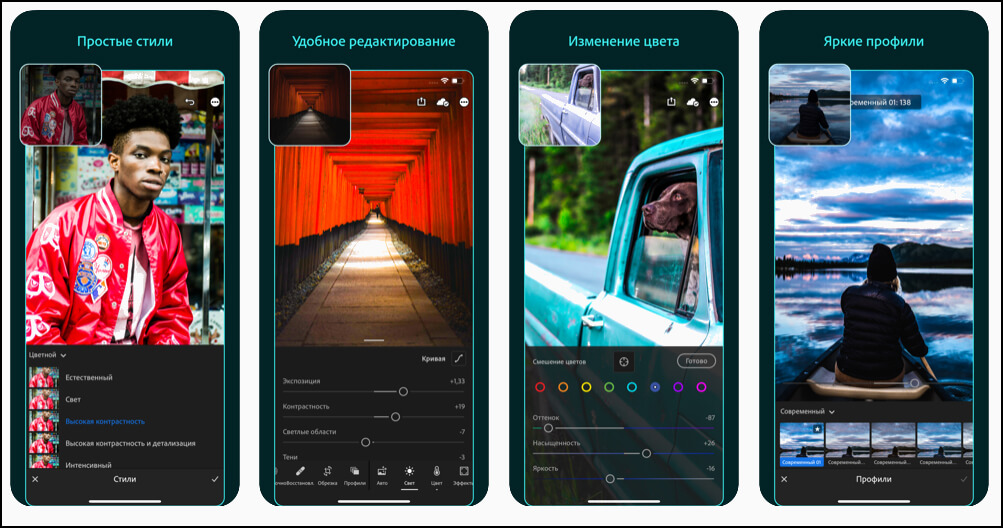 Интерфейс Adobe Lightroom
4. Photoshop Express
Photoshop Express — это компактная версия самой известной программы для обработки фотографий и один из лучших фоторедакторов для айфон. Приложение бесплатное, но пользователи могут получить расширенный инструментарий при подключении аккаунта Adobe Creative Cloud. В программе есть все необходимые функции для редактирования снимков:
кадрирование и поворот изображения,
выравнивание,
зеркальное отображение,
размытие и резкость,
удаление шума,
настройка экспозиции, контрастности и баланс белого.
Также имеется ряд готовых фильтров, позволяющих придать определенный стиль фотографиям. Главной особенностью Adobe Photoshop является встроенная функция автокоррекции снимков, доведенная создателями до высочайшего уровня. Именно она делает приложение одним из самых популярных фоторедакторов iOS.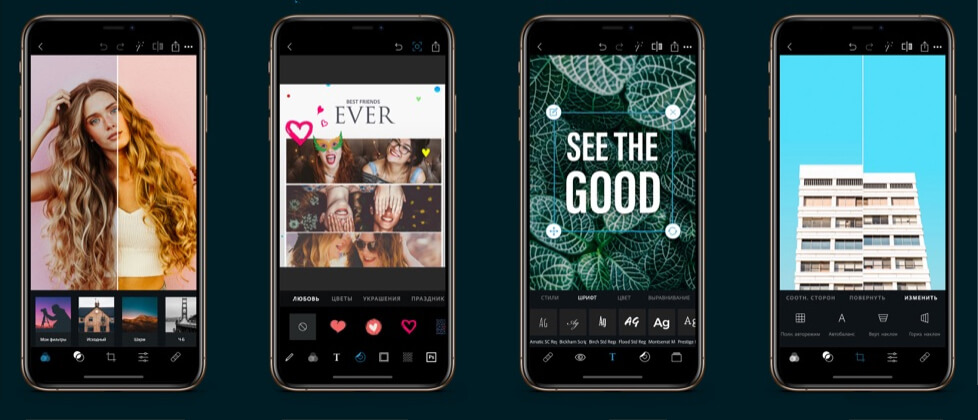 Интерфейс редактора Photoshop Express
5. VSCO
VSCO — мощный многофункциональный редактор для Айфона. Приложение расширяет функции встроенной камеры, позволяя улучшить качество снимков, а затем наложить эффекты. В базовой версии программы можно настроить такие параметры, как:
экспозиция,
контраст,
насыщенность,
резкость,
зерно,
высветление или затемнение,
баланс белого.
Помимо стандартных инструментов, доступных пользователю после скачивания приложения, VSCO предоставляет расширенную коллекцию фильтров по платной подписке. В программе также доступен обмен фотографиями, конкурсы внутри сообщества пользователей и эксклюзивные задания для фотографов.
6. Moldiv
Хороший фоторедактор на айфон, ставший популярным, благодаря огромному набору бесплатных эффектов и необычных функций. Приложение содержит:
более 200 фильтров и тем,
около 700 декоративных элементов, таких как наклейки и узоры,
310 рамок и более 100 журнальных шаблонов для создания коллажей.
Самой интересной особенностью является возможность создания и редактирования селфи. Moldiv разгладит кожу, скорректирует овал лица и даже увеличит глаза. Всё это делает его одним из самых модных фоторедакторов.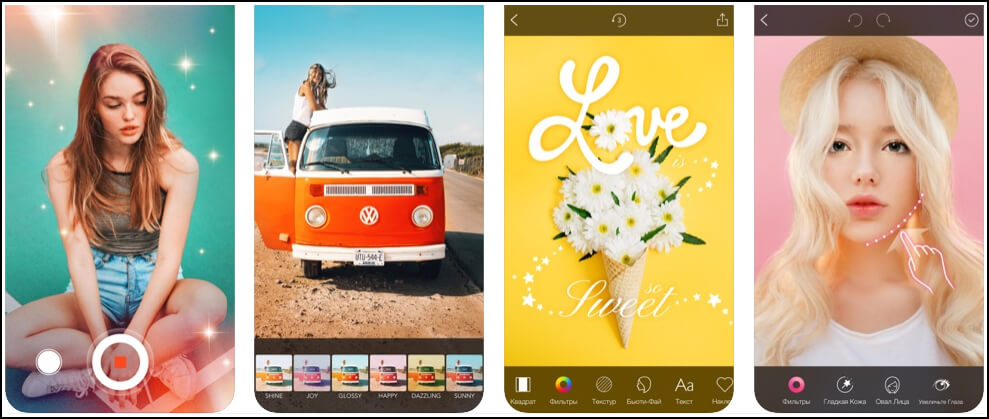 Интерфейс Moldiv
7. Phonto
Крутой фоторедактор для добавления текстов на снимки. Приложение содержит более четырехсот шрифтов, доступных сразу после скачивания с iTunes. Если их не хватает, то Phonto предлагает приобрести дополнительные.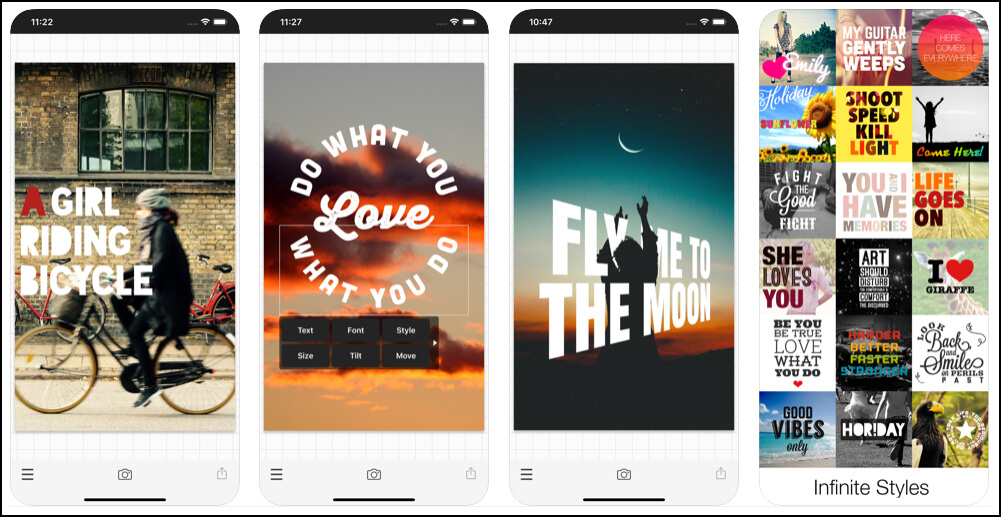 Интерфейс Phonto
Приложение обладает всеми необходимыми инструментами для редактирования различных текстов: изменение цвета, размера, добавление теней и объема.
Примененные эффекты сразу отображаются на экране.
8. Squaready
Squaready — модное приложение для блогеров. Это лучший фотошоп на Айфон, способный придать квадратную форму любым снимкам без их обрезки, независимо от ориентации исходного фото. Приложение делает эту процедуру автоматически при загрузке изображения. Остаётся только выбрать цвет рамки и повернуть фотографию на нужный угол. С Squaready вести блог станет намного легче.
Также в приложении можно:
добавить фильтры к фотографии,
применить размытие,
добавить виньетку.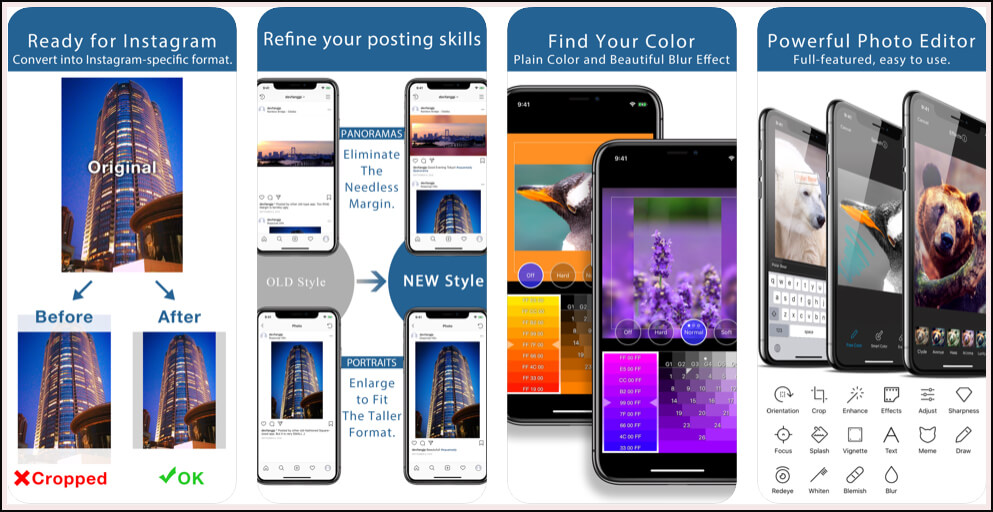 Интерфейс Squaready
9. Afterlight
Afterlight — хорошее приложение, способное конкурировать с профессиональными редакторами для ПК. Несмотря на отсутствие русскоязычного интерфейса, это одна из топовых программ для обработки фотографий. Меню включает пять категорий:
ручная корректировка,
настройка контрастности,
фильтры и эффекты,
обрезка и рамки.
После обработки снимка приложение Afterlight предложит выбрать уровень качества для сохранения: максимальный, средний или низкий.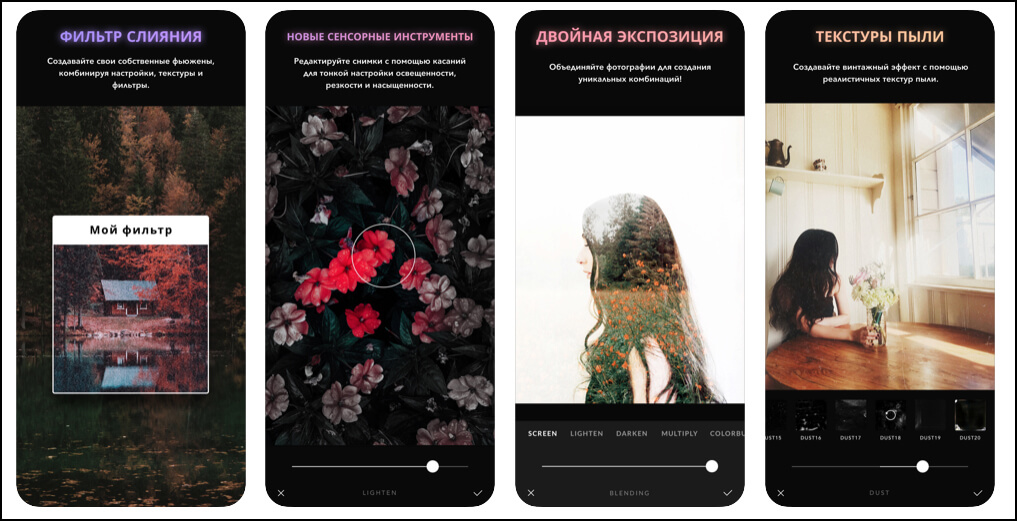 Интерфейс Afterlight
10. Darkroom – Photo Editor
Универсальный редактор, благодаря которому пользователям больше не потребуется использовать несколько приложений для редактирования фото на Айфон. Darkroom обладает полным набором всех необходимых возможностей:
поддержка RAW,
работа с кривыми,
пакетная обработка,
встроенные фильтры,
обрезка, поворот и выбор правильной перспективы,
работа с насыщенностью, яркостью и контрастом.
Возможность пакетной обработки и сохранения собственных фильтров сэкономит ценное время. Также программа самостоятельно задает цвет рамки к каждому снимку.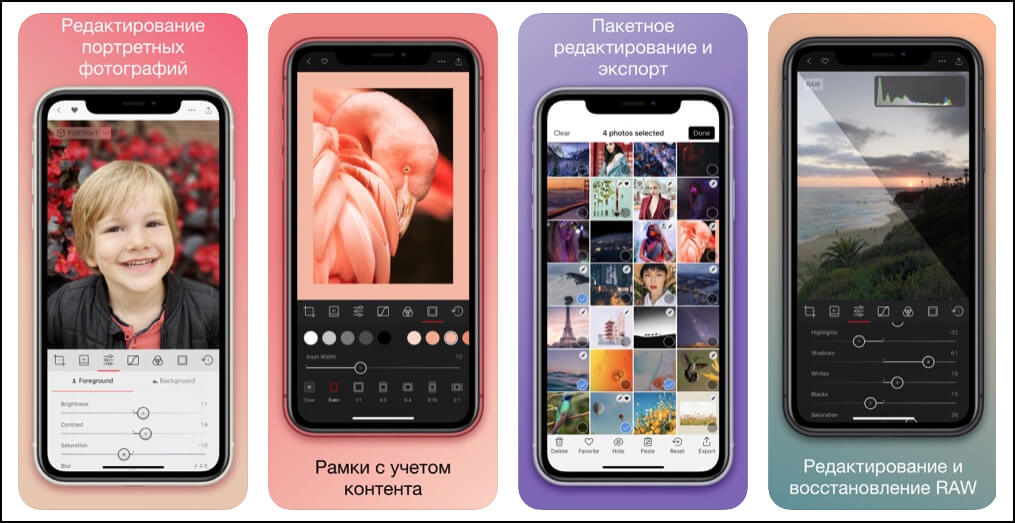 Интерфейс Darkroom
«Фото на документы Профи»
Если помимо обычной обработки изображений вам требуется подготовка снимков на паспорт или визу, непременно стоит попробовать данное приложение. «Фото на документы Профи» имеет удобный список готовых форматов для более 100 типов документов. Интуитивно понятный интерфейс дает возможность сделать фотографии на визу, паспорт или удостоверение за считанные минуты прямо на телефоне.
При съемке из приложения экран будет размечен специальной сеткой, благодаря которой соблюдаются все требования к фото. Готовый снимок можно отредактировать, изменив контрастность, яркость, насыщенность и баланс белого. В этом редакторе фото для айфона изображение можно сохранить, выбрав формат бумаги и число фотографий.

Интерфейс «Фото на документы Профи»
В данной статье мы познакомили вас с ТОП-10 лучших бесплатных фоторедакторов на Айфон. В качестве универсальных программ отлично себя зарекомендовали такие приложения, как Snapseed и Adobe Lightroom, а среди специализированных — редактор «Фото на документы». Остается только определиться, какие программы для редактирования фото на Айфон подходят именно вам. Хотите получить максимум возможностей для обработки фото? Тогда подуймайте об установке фоторедактора на ПК. Например, программы ФотоМАСТЕР (обзор от Fix the Photo).
Скачайте приложение для обработки фото на iPhone
Скачать бесплатно!
Отлично работает на Windows 11, 10, 8, 7 и XP
On your PC or laptop? Click the button below to download PhotoDirector for Windows/Mac.
In today's world, capturing and sharing photos has become an essential part of our lives. Whether you are an amateur photographer or a professional, having the right photo editor app can take your photos to the next level. With so many photo editor apps available on the market, it can be overwhelming to choose the best one to suit your needs. In this article, we will introduce you to the top photo editor apps to help you enhance your photos and take your photography skills to the next level. From basic editing tools to advanced features like photo filters, photo object remover, image deblur, effects, and photo collage tools, we have got you covered. So, let's dive in and explore the best photo editor apps available on the market.
Top 3 Free Photo Editing Apps Snapshot
How To Choose the Best Photo Editing App
How We Test the Best Photo Editing Apps on Our List
17 Best Free Photo Editing Apps
Download PhotoDirector – The Best Photo Editing App for Free
Photo Editing App FAQ
Top 3 Free Photo Editing Apps Snapshot
1. PhotoDirector – Best Free Photo Editor App
Of the best photo editing apps on the market, PhotoDirector takes the #1 spot because of its ease of use and powerful AI tools and features. It's a free all-in-one photo editing app on iPhone and Android for both beginners and experts alike. Its studio-quality AI-powered features let you remove unwanted objects, create AI Avatars and cartoon caricatures of yourself, change or remove backgrounds, touch up photos, and much more.
More Info >
On your PC or laptop? Click the button below to download PhotoDirector for Windows/Mac.
2. YouCam Perfect: Best Free Photo Editor
YouCam Perfect is a selfie camera and photo editor for all your photo editing needs. You can easily apply filters, change photo backgrounds, create photo collages, and remove unwanted objects in just a few clicks. More Info >
3. Pixlr – Best Photo Editor For Filters
Pixlr is a great application to edit photos with a combination of effects, overlays, and filters. You can create photo collages with a variety of presets and backgrounds. More Info >
How To Choose the Best Photo Editing App
Choosing the best app to edit your photos might not be easy with so many options. First, you need to decide what you need the app for. Taking selfies? Editing your foodie pictures or enhancing your scenic shots? Depending on your needs, there are several photo editing apps worth noting for general editing or for more professional needs. As far as features go, most photo editing apps reviewed in our list have both basic editing capabilities and the latest popular features. Remember FaceTune and its unique features for retouching your face? Yeah, that feature can now be found in almost any photo editing app. Most apps in our list have a free version with several features to try and a premium version with extra features that can be unlocked by paying a monthly or annual subscription fee.
In short, our list covers apps for every photo editor out there and we added key feature summaries for each review to make it easier for you to filter them out according to your needs.
How We Test the Best Photo Editing Apps on Our List
First, we consider which photo editing apps are most used for specific categories, and then we have a look at the overall ratings and reviews by the community of users. When testing each app, we look for strengths and weaknesses based on factors such as:
Compatibility with different mobile devices
Clear and easy-to-use interface
Quality and variety of features
Frequency of updates
Integrated stock content
We would also consider each app's intended audience when rating it – after all, it's hard to compare a professional photo editing app like Photoshop to a face editing app like FaceTune.
17 Best Free Photo Editing Apps
1. PhotoDirector – Best Free Photo Editor App
Compatibility: iOS, Android
Overall Rating: 10/10
Key Features:
Tools to cartoon yourself and create caricatures
AI technology to remove people and object from photo
Photo retouch, eye bags removal, teeth whitening and other beauty retouch tools
Unblur photo and denoise images to enhance photos
AI background removal tool
Edit photos easily with preset collage, filters and stickers
Lighting and color tools
Sky replacement and light ray tools
Animation tools and animated overlays
Built-in stock library
PhotoDirector combines complete creative control, a user-friendly interface and a royalty-free stock library provided by Shutterstock and iStock. Whether you've spent years learning the ins and outs of advanced editing techniques or just begun your creative journey, PhotoDirector's professional-quality tools can transform a quick snap into a stunning image.
Along with all the basic editing tools, you can experiment with color grading, making personalized collages, object removal tools, or AI-powered background replacement for adding flawless sunsets to your images.
This also includes its tools to create your own AI Avatars. PhotoDirector uses AI image detection and transformation effects to create caricatures and magic avatars currently trending on social media. This is all done with just a couple taps of your finger.
Another notable AI tool is the background changer feature that allows swapping backgrounds with just one single click! Thanks to this feature you can easily transport yourself to another place or create immaculate product photos with a clean background. What's more, PhotoDirector offers a range of different background templates so you don't have to browse your own camera roll for hours in order to find the most suitable background for your image.
Shot the perfect photo but just something is off with your face? It might just be a small pimple or the lighting makes your face look bigger. No worries – PhotoDirector has got your back here! Use different retouching tools that can remove blemishes, whiten your teeth, and slim your face in an instant! The edits are subtle yet really bring out the best of your photos.
No matter if you're editing one photo or hundreds, you can quickly upload, adjust, and create on the go with your phone or seamlessly transition to your laptop or tablet for edits at home.
More Photo Editing Tips with PhotoDirector:
How To Remove People from Pictures
How To Remove Backgrounds from Pictures
How To Turn Your Face into an Anime Face
PhotoDirector – Remove Watermarks from Photos for Free
How To Enhance Photos with the Best Photo Enhancer
On your PC or laptop? Click the button below to download PhotoDirector for Windows/Mac.
2. YouCam Perfect: Best Free Photo Editor
Compatibility: iOS, Android
Overall Rating: 10/10
Key Features:
AI Object Removal
Background changer and sky replacement
Face retouch and body editing tools
Animated effects & stickers
Hundreds of preset filters
Aesthetic collages and templates
1-tap background removal
YouCam Perfect is one of the best free photo editors equipped with AI-powered photo editing and beautifying tools. It allows you to edit photos on either iPhone or Android with a wide variety of effects, animations, collages, and more! 
It also supports advanced tools like AI Object Removal that helps you effortlessly remove unwanted objects, change your background in seconds, or get dreamy skies in 1 tap with Sky Replacement. If you want to retouch your face or edit your body shape, YouCam Perfect has various face editing tools and Body Tuner features.
All your editing needs can be fulfilled in one app! Download YouCam Perfect for free today to give it a try!
3. Pixlr – Best Photo Editor For Filters
Compatibility: iOS, Android
Overall Rating: 9/10
Key Features:
The free version includes some basic editing tools, filters, and overlays
The app comes with several collage templates for easy creation
Its beginner-friendly interface works well for those with little or no experience with editing software
Pixlr specializes in providing just enough variety for users. You won't ever feel overwhelmed by the available options. Still, you can use intuitive brushes as well as preset effects, overlays, and style filters to transform your photos into black-and-white, film, or sepia tones.
While Pixlr is free to download, the free version of the app has ads and limits your access to editing tools.
Casual users may enjoy the simplicity of the Pixlr app, but anyone who wants access to comprehensive editing tools and advanced effects may find Pixlr lacking in more than one area. Pixlr's Premium subscription, however, does offer access to more editing tools.
4. PicsArt – Best Video & Photo Editor App
Compatibility: iOS, Android
Overall Rating: 9/10
Key Features:
Good lineup of editing tools for casual photographers
Wide variety of stickers, filters, and personalized collages
Simple, easy to use interface that allows beginners to edit without a learning curve
PicsArt combines community with a user-friendly editing app for a fun, creative experience without a lot of hassle. While the free app features ads that pop up while editing, even those who are brand new to photo editing can access all the basic tools while enjoying stickers, collage templates, and text functions.
You can also use PicsArt with your camera, applying filters, effects, and overlays to photos before you take them. Quickly crop, resize, flip/rotate, and enhance photos using the PicsArts "Effect" menu, or use the Dispersion tool to create dramatic images with the click of a finger.
If your interest in photography extends to sharing daily moments with your family, then PicsArt's functional tools can help you make minor tweaks and adjustments to your snaps. You can also enjoy trendy filters, colorful text, cloning options, and an eraser tool to remove objects from your photos.
Unlike some other free editing apps, PicsArt even offers a "Motion" effect, allowing you to animate your images.
However, the major disadvantage to the PicsArt lies in its pricey premium subscription and lack of truly advanced editing tools such as sky replacement, light rays, and other features.
5. Snapseed – Best Photo Editor App for Casual Users
Compatibility: iOS, Android
Overall Rating: 8/10
Key Features:
Over 30 professional-quality editing tools
Presets and filters for one-tap editing
If you're searching for a fun, simplistic photo editing app for casual use, Snapseed may not be the best app for you. Featuring a line-up of professional-quality editing tools, options to adjust color and exposure, and selective editing tools to perfect every image, Snapseed's powerful capabilities make it well suited for experienced content creators and photographers in search of a mobile editing interface.
While the editing platform is simple and streamlined, the array of editing tools – such as curves, imagine tuning, selective brushes, and detailed lighting and color scales – may feel overwhelming to beginners who only want to make a few small tweaks.
However, if you've got some experience in editing photos, you may enjoy the variety of options as well as the ability to layer edits and save "Looks" to apply to photos later. You can also use Snapseed's portrait mode to smooth skin, brighten eyes, and create a pro-quality image. You can even use more advanced editing techniques like Bokeh with Snapseed's lens blur tool.
Snapseed also comes with several filters you can customize using the app's 30-plus editing tools. Additionally, the app is totally free with no premium features.
That said, while Snapseed comes with more editing tools and filters than the other apps mentioned in this guide, the learning curve may be intimidating to novice users.
6. Adobe Photoshop Camera – Best Photo Editor For Taking Pictures
Compatibility: iOS, Android
Overall Rating: 8/10
Key Features:
The app adds new lenses regularly, with a variety of adjustable options
Adobe Sensei tailored masks and filters based on the type of photo
Easy, point-and-shoot style of editing works well for inexperienced users
Photoshop Camera uses an AI function, called Adobe Sensei, to apply masks, special effects, and some photo corrections to photos before or after you capture the image. The app's filters – known as "lenses" – offer a wide variety of colors, lighting options, and special effects to transform your photo in a single click.
Some lenses also include animated elements, such as shooting stars or movable smart objects.
Adobe continues to add new lenses to the app, each with several variations that can result in highly stylized photos. That said, while the app allows amateur photographers to get creative with point-and-shoot photographs, the lack of essential editing tools or advanced functions like animation, sky replacement, and the Bokeh effect make it more suited to casual users than serious content creators.
7. Werble – Best Photo Editor For Adding Overlays
Compatibility: iOS, Android
Overall Rating: 7/10
Key Features:
Dozens of visual effects templates
A solid lineup of movement presets for animation
Supports layers for unique animation
Werble's fun visual effects and simplified layout make it a suitable choice for social media content. The animation effects won't result in professional-quality results, but the app can add a unique touch to your images thanks to various effects packets and animated overlays.
8. Canva – Best Photo Editor With Templates
Compatibility: iOS, Android
Overall Rating: 7/10
Key Features:
Variety of templates
Text effects
Photo filters
Base-level photography effects
Canva's primary appeal is its library of versatile, customizable templates. You can sort through Canva's existing templates, choose one that suits your design aesthetic and make personalized adjustments.
The app also provides graphics that you can use in your Instagram story creations. If you'd prefer not to create a story from one of the app's templates, you can access Canva's library of elements to craft a post of your own creation.
While Canva does offer a limited array of photo effects, if you want to produce any professional-level photography edits, you will need to look for a more advanced app. Canva's photo effects are limited to resizing, adjusting color, and overlaying filters onto your photo.
9. FaceTune – Best Selfie App
Compatibility: iOS, Android
Overall Rating: 6/10
Key Features:
Beginner-friendly
Extensive editing features for skin touch-ups
Face reshaping and makeup features
Several Neon filters and light effects
The first time you open FaceTune, you are asked for your photo editing skill level to ensure you have the best app experience. As the app name already implies, FaceTune's features are more focused on face editing and involve skin smoothening, face reshaping, or changing hair colors. You can also virtually put on makeup or change your skin color thanks to the Paint tool.
Besides face editing tools, the app also offers tools such as different patterns for clothing you can easily swap with the ones you are wearing in the image. The Backdrop tool lets you easily replace the existing background with one of FaceTune's backdrop templates such as flowers, butterflies, or sparkles.
The photo editing app is very beginner-friendly as it provides a walk-through for every feature to guide the user through the process. Overall, FaceTune is a good photo editing app for those who love to touch up their selfies.
All features in FaceTune are free to use for the first 7 days; after that, you can upgrade to a subscription or perpetual license.
10. Prisma – Best App to Turn Anything Into a Painting
Compatibility: iOS, Android
Overall Rating: 5/10
Key Features:
700+ billion painting styles
Variety of frames
One-click background swap
Frequent filter updates
Turning your photo into a painting in Prisma is easy and just a matter of one click.
The painting styles are named after art techniques such as Dallas, Mosaic, or Gothic or after artists such as Thota Vaikuntan or Daryl Feril.
You can also clip the background to automatically apply the style to just the person in the image and leave the original background. After you have applied the desired painting style, you can choose from a variety of frames to put your edited image in the right light.
Furthermore, you can control the effect's intensity and saturation on the person or do some more touch-ups to the background to match the new image.
One disadvantage of Prisma is that in order to access the photo editing app you have to subscribe to their service first and then manually cancel the 3-day free trial period.
Overall, this photo editing app is very straightforward and easy to use. However, the automatic subscription might not be everyone's favorite, especially when you tend to easily forget about canceling subscriptions.
11. PicCollage – Best Photo Editing App for Collages
Compatibility: iOS, Android
Overall Rating: 7/10
Key Features:
Tons of collage frames and designs
User friendly for easy customization
Frequent seasonal releases
PicCollage is our favorite photo editing app that specializes in photo collages. With a very user friendly interface, this app allows you to select which aspect ratio you'd like, then it spits out dozens upon dozens of different grids to use for your photos.
The frames are not just the standard squares and rectangles, either. You can also choose slanted shapes, circles, stars, hearts, or even a honeycomb pattern. The app also gives you lots of freedom of choice when selecting the sizes of each picture in your collage.
There are also frequent template releases of seasonal themes and for life milestones. So whether the Fall season has just begun and you want to celebrate Labor Day, or you just had a baby and want a perfect themed collage, PicCollage is a great photo editing app with customizable frames in which to put your photos.
There is a 7-day free trial with a good selection of themed stickers with the free version, but you need a subscription to unlock all the features, including removing that pesky watermark.
12. BeFunky – Best Photo Editing App for Simple AI-Powered Photo Editing
Compatibility: iOS, Android
Overall Rating: 8/10
Key Features:
Simple and easy-to-use A.I.-powered editing tools
Harness tools at the outset to achieve your specific purpose
BeFunky is a fun photo editing app that keeps photography lighthearted for enthusiasts while still leveraging powerful tools to achieve great results.
As soon as you open the app, you are prompted to select what you'd like to use the app for. We appreciate that BeFunky gets right to the point, asking what you would like to do with the app, rather than having you spend lots of extra time navigating the interface trying to find what you're looking for.
You can choose from many options, including a background remover, A.I. Portrait Enhancer, Oil Painting or Digital Art creation, and Facebook and Twitter Templates to get the job done.
Something particularly valuable about BeFunky is its powerful A.I. features. The app allows you to leverage A.I. to enhance image appearance, remove backgrounds, and edit faces. However, it is lacking the effects and features that would make it an all-in-one comprehensive photo editing app.
13. Afterlight – Best Photo Editing App for Serious Photographers
Compatibility: iOS, Android
Overall Rating: 7/10
Key Features:
A no-nonsense minimalist user interface
Basic editing tools with powerful results
If you don't like noisy and cluttered apps, you'll really like Afterlight.
Afterlight is a no-nonsense photo editing app with a simple and understated user interface that features powerful basic editing tools. It's extremely easy to do basic edits in a variety of ways – from crops to adjustments to brightness, contrast, vibrance, saturation, and more.
The app has many filters and effects including some particularly aesthetic light effects and a very intuitive double exposure effect feature. You can also add text and stickers easily.
After editing your picture, the app makes it very simple to either share directly to Facebook, Instagram, Twitter, or Messaging apps or you can opt to save your image to your phone.
A feature we found particularly unique among photo editing apps is Afterlight's simple undo-redo button to cycle through your edits. This makes experimenting with different adjustments and effects very easy, because you can always go back to previous versions of your edited image.
Although stock media options are conspicuously lacking, this photo editing app is a good choice for serious photographers who want a no-nonsense solution to photo editing, without any more advanced features.
14. piZap – Best Photo Editing App for Memes
Compatibility: iOS, Android
Overall Rating: 7/10
Key Features:
Ideal for social media
Unique meme maker
Fun, funky, lighthearted approach to photo editing
piZap is a photo editing app with a fun and funky aesthetic that's optimized for sharing your final product on social media. It makes experimenting with new styles extremely enjoyable. Using the app makes you feel like a kid, which is a great feeling, but its output is still highly aesthetic and professional.
When you open piZap, you immediately can choose to create a new design, allowing you to select options like Instagram or Facebook Post, Facebook Story, YouTube Channel Art, and more. The app is packed with fonts, stickers, and stock media to decorate your final product.
The MEME Maker in piZap is what really stood out to us. It offers many meme templates, images, and animated GIFs ready to be customized and shared to a variety of social media platforms.
With frequent updates, templates, and tutorials released, this photo editing app is perfect for creating viral posts, memes, and stories. It also links seamlessly with a number of social media platforms like Facebook, Twitter, and LinkedIn.
It's a great photo editor for any avid social media user, but the app lacks complete creative control and some more advanced photo editing tools if you want to take photo editing more seriously.
15. VSCO – Best for Professional Editing
Compatibility: iOS, Android
Overall Rating: 7.5/10
Key Features:
Offers video editing features
Own community platform
200+ presets and tools
Includes advanced photo editing tools such as artificial light filters
VSCO praises itself as THE app for premium filters and quality tools. Besides that, they are also a community platform where users can share their images and videos and get feedback as well as connect with like-minded users.
The app comes in a simple and clean format. VSCO is great for quick edits to polish your photos and videos. The montage feature is very popular among the community to create a moving collage by layering elements. Their website also frequently shares user stories and showcases to get inspiration and tips on how to edit content. 
VSCO only offers limited tools for free. If users want to test out the whole feature and preset scope, then a paid membership is necessary.
16. Airbrush – Best for Influencers
Compatibility: iOS, Android
Overall Rating: 6.5/10
Key Features:
Expansive variety of beautifying tools
Variety of makeup looks
300+ filters with new added regularly
Direct sharing to social media possible
AirBrush labels itself as a pro-level photo editor. With over 154,000 positive reviews on the App store it definitely has a great community of fans out there – for a reason! Their strong point lies in the photo retouching tools such as skin retouching, teeth whitening or body reshaping. Besides these professional touch up tools, AirBrush also provides valuable tips and tricks about photo editing on their blog.
The app also lets you choose from a range of makeup looks so that you will look good everyday. Users praise it for enhancing the natural beauty of photos rather than making retouches that are too obvious.
In order to really get the best use of AirBrush, users have to subscribe to their service. Recently popular features such as resize and reshape are now behind a paywall as well. If you don't mind this and like to subtly enhance your beauty, then this app is for you.
17. Photo Editor Pro – Best for Subtle Retouchs
Compatibility: Android
Overall Rating: 7.5/10
Key Features:
100+ free photo filters
Variety of different light effects
Photo retouching tools for face smoothening and body reshaping
Cartoon effects for selfies
This app is created by Inshot, the company behind the popular video editing app of the same name. Though not as popular as its video editing brother, Photo Editor Pro has a loyal community of fans that love its easy to use interface and range of unique photo filters.
Besides its sleek design, Photo Editor Pro also offers basic retouching that is subtle yet brings out the best of your photos.
Photo Editor Pro offers basic and advanced photo editing tools. However, updates are not too frequent so users eager to get the latest features or trendy content might need to wait a little for the rollout on this app. The free version also comes with ads.
Download PhotoDirector – The Best Photo Editing App for Free
A few years ago, you most likely snapped a selfie using your cell phone, applied an Instagram filter, and shared it with the world. Now, many are jumping between editing apps and even applying additional touch-ups or tweaks from desktop photo editing software before sharing an image online.
Luckily, you can capture your vision and achieve stunning results using one of the top five best photo editing apps for iPhone and Android. While each of our top seven picks has its advantages, only PhotoDirector combines ease of use and all the comprehensive editing tools you need in a single photo editing app.
Even beginners can create shareable photos in minutes using PhotoDirector. Apply filters, combine images into a collage using the highly customizable templates, or brighten your photos with light rays and animated sparkle. PhotoDirector's AI editing tools include complete sky replacement, allowing you to adjust or remove the sky in your original image and seamlessly integrate a lovely morning or evening display. With its photo animation tools, you can add motion to your photo in seconds.
Edit, animate, and customize your photos to inspire your followers, and impress your friends, and family.
Get started for free today by downloading PhotoDirector.
On your PC or laptop? Click the button below to download PhotoDirector for Windows/Mac.
Recommended Articles:
8 Best Photo Frame Apps [iOS & Android]
8 Best Meme Maker Apps for Generating Memes for 2023 (iPhone & Android)
7 Best Instagram Filters & Effects in 2023
3 Tips for Color Correcting and Color Grading on Your Phone
Photo Editing App FAQ
1. What Are The Benefits of Mobile Photo Editing?
There are two big benefits of mobile photo editing:
You can do it anywhere and anytime you have your phone, which for most of us is everywhere and all the time.
Since most of us are just using our camera phones to take pictures, you don't have to worry about transferring your photos to another device.
2. What Features Should I Look For In a Photo Editing App?
User-friendly
Color correction and filters
AI-powered tools
Content-aware editing
Photo animation
Beauty retouching
Color effects
Light effects
Sky replacement
Overlay abilities
3. What Is The Best Free Photoshop Alternative?
Check out our article Best Alternatives to Photoshop article for a full overview of our top 5.
PhotoDirector 365
Paintshop Pro
DxOPhotoLab
Rebelle
Pixelmator
4. What Is The Best Free Photo Editing App For Windows?
5. What Is The Best Free Photo Editing App For Mac?
Check out our article Best Free Photo Editor for Mac for a full overview of our top 5.
PhotoDirector Essential
GIMP Photo Editor
Fotor Photo Editor
Pixelmator
Photoscape X
6. Should I Pay For a Photo Editing App?
This is dependent on your needs and what kind of edits you want to make. If you're making simple adjustments like cropping, rotating or flipping a basic free editor should be fine.
If you want to add photo effects you will benefit from paying for a quality photo editor. Some free editors offer advanced features like PhotoDirector but it is an exception to the rule. Most are usually clunky and don't provide the best results.
There is also a paid version of PhotoDirector that includes a 4,000,000+ stock library and lots of extra creative assets.
7. What Is the Best Photo Editing App for a Beginner?
PhotoDirector is our best choice for beginners. This photo editing app comes with an intuitive yet simple user interface as well as a variety of filters and effects. Besides its vast content library, PhotoDirector also offers AI-powered tools to get your editing done in minutes while at the same time getting the best results.
Your iPhone takes beautiful photos, but the right apps can make them even better. Most photographers accept post-production as a part of their workflow, but a lot of the time our smartphone images miss out on this important step.
There's no shortage of solid photo editors for iPhone, and plenty of the options are free. Here are some of the best free photo editing apps for iPhone.
1. Photos
Your iPhone already comes with an impressive image editor built right into the Photos app. Launch the app, find a photo, and tap Edit in the top-right corner of the screen to access the editor.
Here you can crop and rotate your image, apply filters, and adjust a wide variety of parameters. Rescue the highlights and shadows, adjust exposure and contrast, or convert to black and white.
Photos has its limitations, however. While it can handle RAW files, it only serves up lossy JPEGs to other apps. That means you can't make edits in Photos and export a RAW to other apps without first duplicating it.
2. Google Snapseed
Google's Snapseed is a photo editing powerhouse on both iOS and Android. The app support RAW editing, which makes it a candidate for the best free image editor on those platforms.
In addition to several filters, which Snapseed refers to as Looks, there's a dizzying array of editing tools to choose from. These range from the basics to perspective shifts, selective coloring, instant HDR, and extensive monochrome filters and options.
The app controls well too. Just drag left and right to adjust a parameter's strength, or drag up and down to change the parameter.
Download: Google Snapseed (Free)
3. Afterlight
If you're looking for an all-in-one photo editing app with a host of different tools, it's hard to go wrong with Afterlight.
You can start editing with advanced tools like curves, grain, overlays/gradients, and more. Then you can add unique touches with filters, textures and overlays, frames and borders, and fonts. The app also supports RAW images.
With a subscription, you can take advantage of the entire library of 130 unique filters, 20 dusty film overlays, and touch tool adjustments to edit a photo with simple on-screen gestures.
Download: Afterlight (Free, subscription available)
4. Darkroom
There's no need to worry about finding the image you need to edit when using Darkroom. Your entire photo library is ready to access immediately (though it's still wise to organize your iPhone photos).
The app offers great tools to edit all types of images, including Live Photos, Portrait mode images, and RAW photos. You can even create a custom filter from scratch or use one of the built-in options.
Using a batch processing feature, you can easily apply edits and filters to a number of photos at once.
For access to a color tool, curves tool, additional filters, the ability to protect images with a watermark, and a custom icon, you'll need to purchase a subscription.
Download: Darkroom (Free, subscription available)
5. Enlight Photofox
Enlight Photofox wants to do more than just provide a way to edit your images. You can turn any photo into a work of art in just a few taps by using selections from the QuickArt or Readymades sections.
For more advanced editing features, the app provides tutorials that showcase other concepts, such as glitch art.
You'll need to subscribe to access all the different art styles, frames, tools, and more. Subscribers are also able to create unlimited layers in their photo creations.
Download: Enlight Photofox (Free, subscription available)
6. Prisma
Prisma is an app unlike any other. When you load an image into Prisma, it sends that image to a server where it's converted into a particular style of art. These styles are modeled on great artists like Picasso and Matisse, but also venture into comic book and futuristic territory.
You can adjust the strength of the filter, which is fortunate since the app produces a mixture of impressive and slightly-off images. Some filters produce images that really look like computer-generated artwork; others transform images into something weird and wonderful.
Prisma has some of its features locked behind a premium account. If you want more styles, unlimited HD renders, and an ad-free experience, you'll need to subscribe.
Download: Prisma (Free, subscription available)
7. Lens Distortions
This app is all about emulating the look of fancy glass, weather effects, and lighting. It also includes some basic photo editing tools and uses layers to blend various effects together.
In addition to lens distortions, like blurs and flares, the app includes bokeh balls, fog, rain, snow, and shimmering effects. You can adjust the intensity, position, and scale of the effects as you see fit. It's a great step toward achieving that vintage photography feel with any image already on your iPhone.
To unlock even more effects and filters, sign up for the premium subscription. You can also expand the various categories by buying packs outright if you'd rather pay once and keep them forever.
Download: Lens Distortions (Free, in-app purchases available)
8. VSCO
You'll either love or hate VSCO's abstract and minimalist interface. To its credit, the app has improved over time with better labels on its editing tools and a more straightforward approach to image editing.
It's also the only app on this list capable of capturing RAW images. Tap on the camera and then change the image format to RAW to capture much more visual data every time you press the shutter.
The app brings great levels of complexity to RAW editing, with a number of filters included and more available with a VSCO X subscription.
Download: VSCO (Free, in-app purchases available)
9. Polarr Photo Editor
Polarr Photo Editor makes great use of AI and other tools like face detection to make it easier to edit images. Face detection will automatically select a face and allow you to fine-tune different aspects, like skin tone and other facial features. The AI detection can also isolate features of a photo, like the sky, to make it easier to edit different parts of the image.
Thanks to over 10 blending modes, you can superimpose photos and add effects like cloud, light leaks, and more. You'll also find a bundle of other editing tools for every level of photographer.
With a subscription, you can unlock all of the app's available filters, overlays, and other tools. It will also back up all custom filters. As a nice touch, the subscription will also carry over to the desktop and web versions of the Polarr app.
Download: Polarr Photo Editor (Free, in-app purchases available)
Free Photo Apps for Better iPhone Pictures
Now you can perform a variety of edits on your iPhone photos using nothing but your device. A bit of work will make your images look even better.
If you're serious about your photography, you should consider shooting in RAW. RAW captures more detail than a lossy JPEG, meaning you can push your images further in post-production.
Топ-10 лучших бесплатных фоторедакторов
для Айфона – рейтинг приложений
для обработки фото iOS 2023
ПО для смартфонов в последнее время практически не уступает по функциональности компьютерному софту.
Поэтому использование мобильного телефона – лучший вариант, если вам нужно быстро обработать фотографию
и выложить ее в интернет. Если вы хотите найти лучший бесплатный фоторедактор для айфона, данный рейтинг
поможет вам сделать выбор. В этом топе мы рассмотрели 10 самых популярных приложений 2023 года, которые
позволят вам отредактировать фотоснимок на профессиональном уровне.
Snapseed некоторые пользователи считают лучшим фоторедактором для iPhone. Это приложение, которое улучшает качество фото и позволяет проводить быстрое редактирование. Оно разработано корпорацией Google и практически представляет из себя полноценную замену компьютерному софту. Множество встроенных фильтров и возможность создавать и сохранять свои пресеты делают его отличным вариантом для инстаграм-блогеров. Snapseed поддерживает работу со снимками в формате JPG и RAW и всеми версиями iOS, в том числе айфон 5 и iphone 11.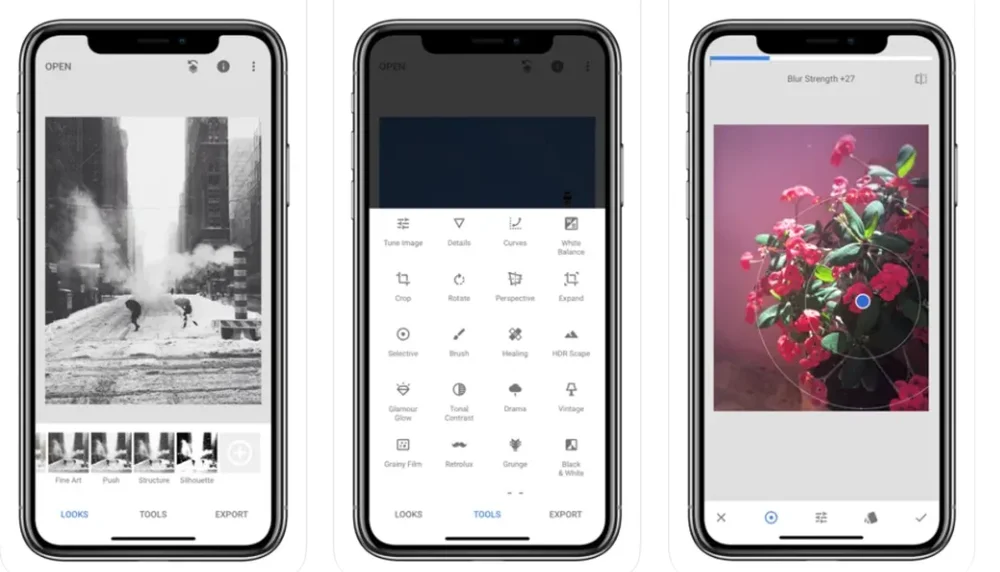 В приложении Snapseed можно:
Быстро применять фильтры из обширной коллекции;
Повышать резкость и избавляться от шумов;
Точечно изменять участки картинки при помощи кисти;
Обрабатывать портреты и применять пластику;
Кадрировать и обрезать по шаблонам или в произвольной форме.
Новое бесплатное приложение для обработки фото на айфон. Позволяет легко создавать эффектные селфи и
ретушировать портреты без помощи профессиональных фотографов. Можно мгновенно отбелить зубы,
добавить загар, убрать мешки под глазами, морщины и прочие несовершенства.
Доступны более 30 фильтров для создания атмосферных кадров, в том числе добавление
цветовых бликов и солнечных лучей, эффект боке. Функции автокоррекции позволяют
настраивать теплоту, насыщенность и тон фотографии, регулировать контраст и экспозицию.
Скачайте приложение бесплатно и опробуйте его самостоятельно: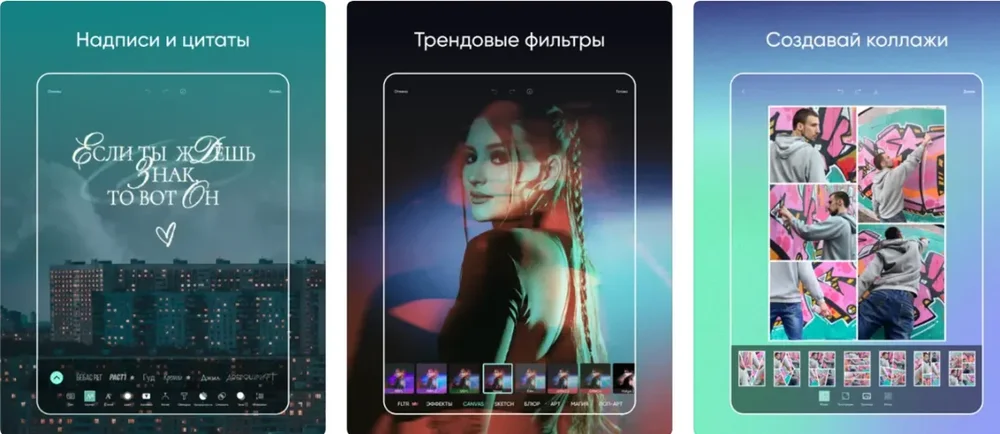 Преимущества программы:
Мгновенная ретушь портрета;
Понятный интерфейс на русском языке;
Более 30 эффектов, включая стилизацию под кинофильм и имитацию фотопленки;
Настройки конраста, насыщенности, цветового баланса, а также устранение пересвета и теней;
Световые акценты на снимке: блики, солечные лучи, эффект боке;
Кадрирование, замена фона, виньетирование, выравнивание горизонта;
Вторая по популярности программа фоторедактор для айфона для коррекции фото. Отличается простым принципом работы, большим количеством фильтров и широким выбором инструментов для редактирования. Кроме редактирования, VSCO включает в себя внутреннее сообщество, где вы можете общаться с другими пользователями, делиться изображениями и участвовать в конкурсах. Это приложение отлично работает с новыми сборками айфонов, к примеру, iphone xr, но также подойдет для более ранних версий.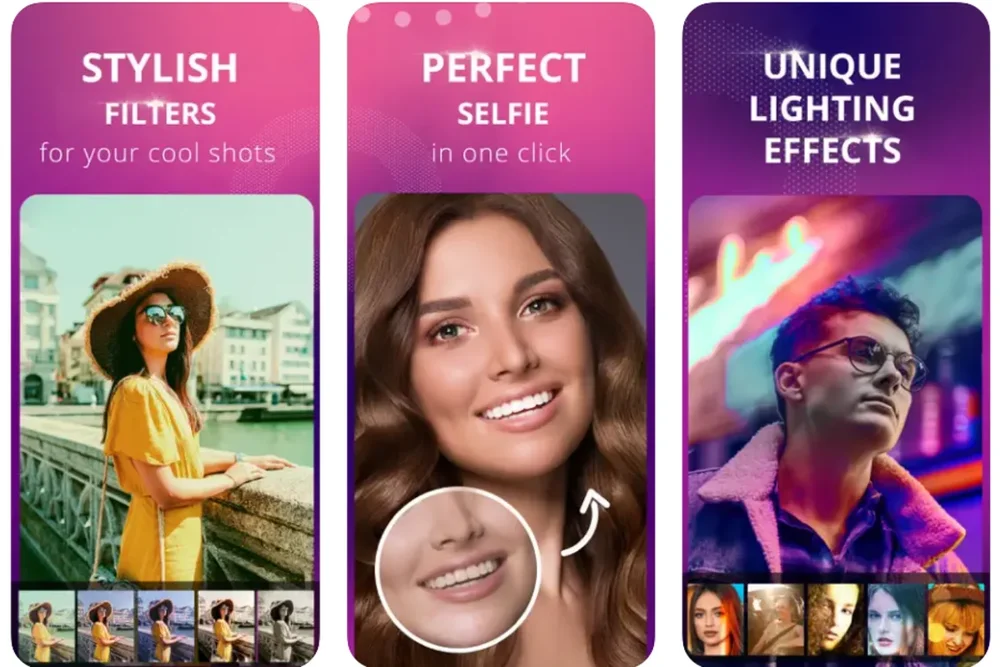 Особенности приложения VSCO
Наложение слоев, геометрических фигур, текстур;
Предустановленные рамки, виньетки и пресеты;
Настройка экспозиции, цветового баланса, резкости и прочее;
Кадрирование, поворот, отражение;
Изменение размера и кадрирование;
Компактный бесплатный фотошоп для ios, включающий в себя почти все функции компьютерной версии. Вы можете отредактировать изображение, убрать из кадра лишние предметы, присутствует обширная коллекция пресетов, которые придутся по вкусу любителям социальных сетей. Большим плюсом является автоматическая коррекция и улучшение. Это универсальное решение для всех версий телефонов на базе iOS, в том числе он хорошо работает на старых версиях, таких, как айфон 6 и iphone 6s. Помимо встроенных базовых инструментов, пользователи могут приобрести дополнительные функции, оформив платную подписку Adobe Creative Cloud.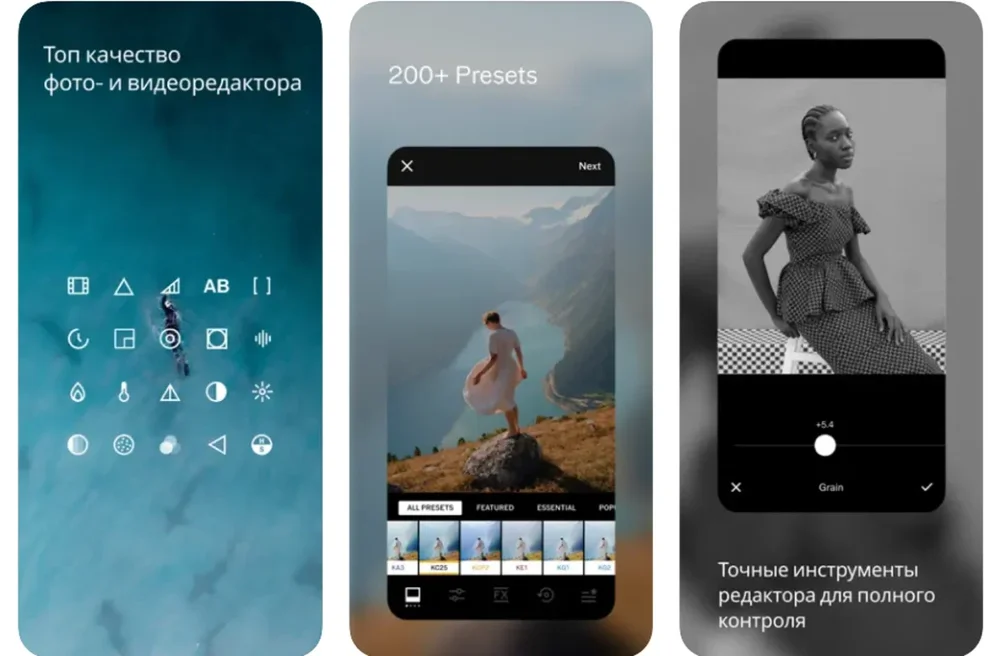 Базовый функционал включает в себя:
Кадрирование, поворот, обрезка, отражение;
Выравнивание перспективы и горизонта;
Исправление цветового баланса и освещения;
Инструменты для удаления объектов;
Настройка резкости и размытости;
Очистка шума;
Настройка экспозиции, яркости, контрастности и прочее;
Легкое приложение фоторедактор для айфона от разработчиков ВКонтакте. Работает как с iOS, так и с Android. Обработанные снимки можно сразу синхронизировать с аккаунтом ВК, отправить в другие социальные сети или сохранить на ваше устройство. Позволяет делать фотографии в высоком разрешении. Snapster работает с телефонами на базе iOS, начиная с версии 8, в том числе ее можно установить на айфон 7.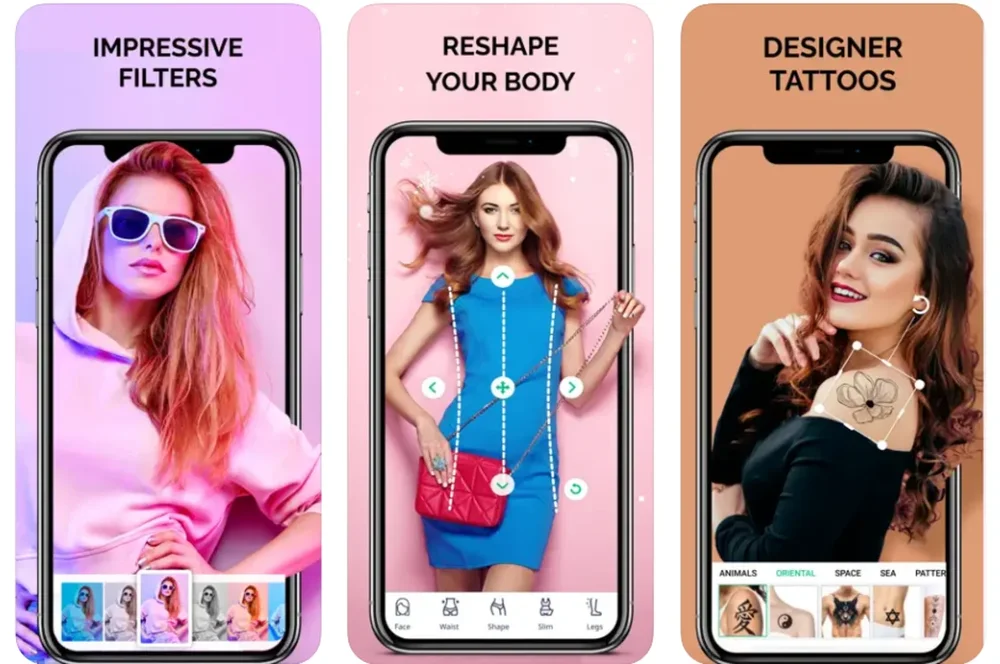 В базовый функционал Snapster входит:
Предустановленные библиотеки фотоэффектов;
Продвинутая цветокоррекция;
Работа с кривыми и отдельными каналами RGB;
Автоматическое улучшение;
Выправление перспективы, поворот и отражение;
Это приложение для обработки фото ios для iphone 5s и более поздних версий. Позволяет накладывать фильтры и работать с эффектами прямо во время съемки. Есть коллекция стикеров, наклеек, возможность накладывать текст и создавать постеры и плакаты. Обработанный снимок можно сохранить на телефон или отправить в fb, instagram и twitter.
В Rookie Cam можно бесплатно воспользоваться следующими функциями:
Применение сложных фотоэффектов вроде двойной экспозиции;
Наложение текста: доступно более 300 шрифтов, в том числе русские;
Коллажи и серийная съемка;
Ретушь лица и коррекция фигуры;
Режим «идеальная кожа» во время фотосъемки;
Еще один хороший бесплатный вариант для любителей инстаграм, так как в нем присутствует большая коллекция оригинальных фильтров. Кроме обработки селфи, также помогает редактировать короткие видеоролики. С его помощью можно создавать анимацию с музыкой, применять ретушь и пластику, накладывать эффекты. Его можно использовать для добавления текста на фото и создавать постеры, афиши и обложки. Также встроен профессиональный фоторедактор.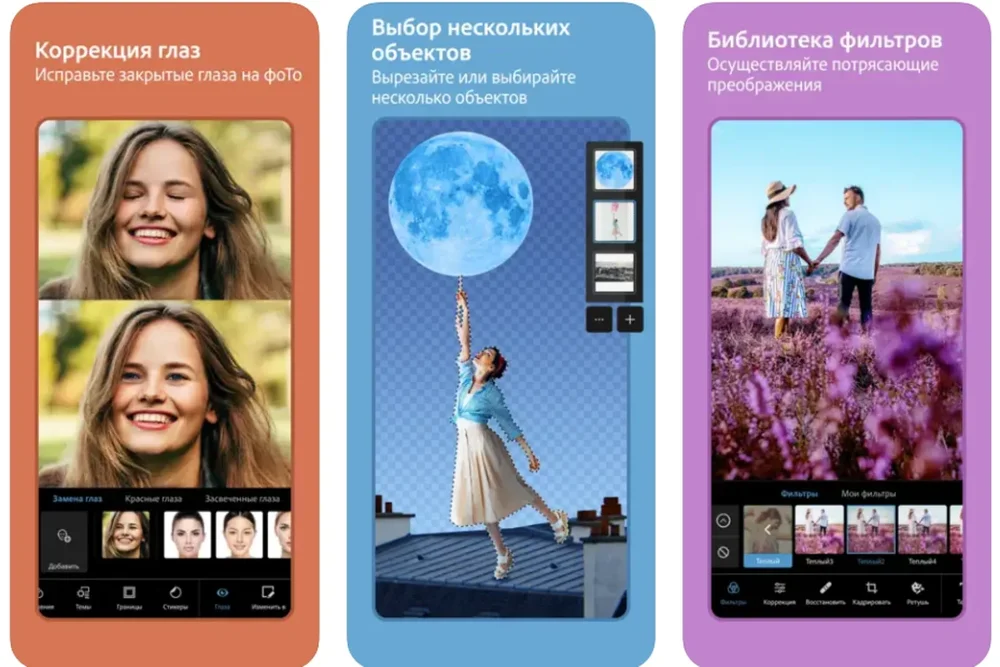 В инструментарий Moldiv входят:
Ретушь селфи, пластика в стиле «манга»;
Анимированные стикеры и статичные наклейки;
Видео-обложки и макеты в стиле полароид;
Бьютифай и анимация в режиме реального времени;
Это бесплатное приложение для редактирования фото на айфон с добавлением эффектов пользуется особой популярностью среди пользователей инстаграм. В нем можно быстро наложить фильтры и подогнать картинку под требуемые параметры этой социальной сети. При этом фотография не обрезается и сохраняется на устройство в оригинальном размере, так что вы можете сохранить его на телефон с оригинальным разрешением или поделиться на других сайтах. При отправке в социальные сети можно сразу подобрать рамку и эффект.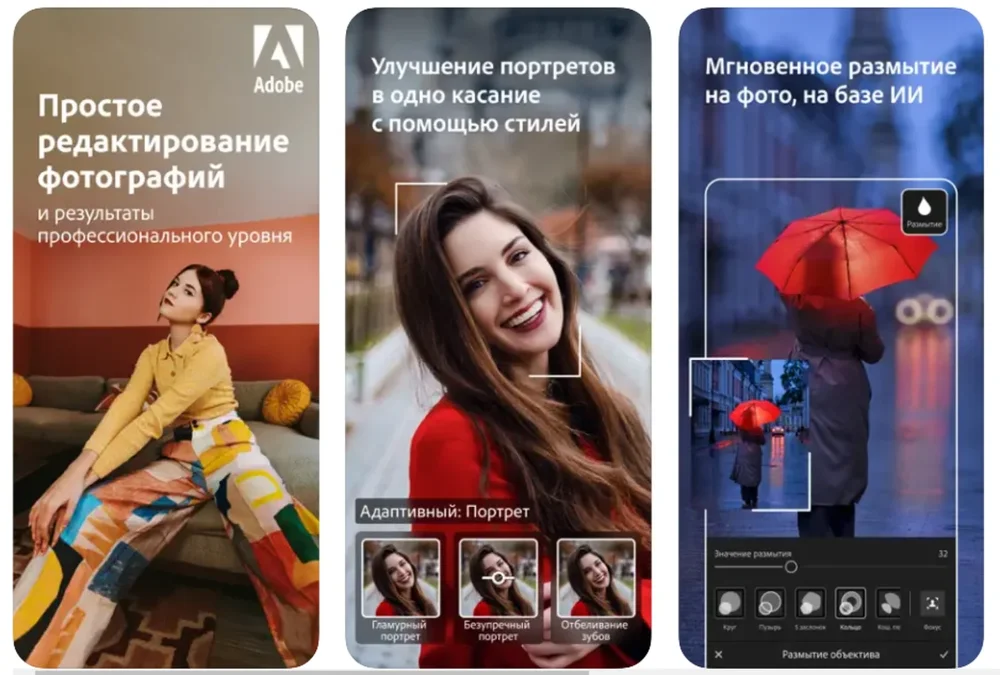 C помощью Squaready можно:
Добавить рамки и виньетки;
Применить цветокоррекцию;
Изменить или размыть фон;
Применить автоматическое улучшение;
Выправить горизонт, повернуть или отразить;
Наложить текстовые элементы.
Полноценный фоторедактор для улучшения качества фото. Включает в себя большое количество профессиональных инструментов. Позволяет исправлять недочеты в перспективе, освещении, цветовом балансе, проводить базовую и продвинутую обработку и создавать коллаж фото. Присутствуют фильтры и возможность работы с текстом, что позволяет использовать его для графического дизайна. Есть возможность создавать и сохранять свои собственные пресеты, также его можно использовать для изменения фона на фото.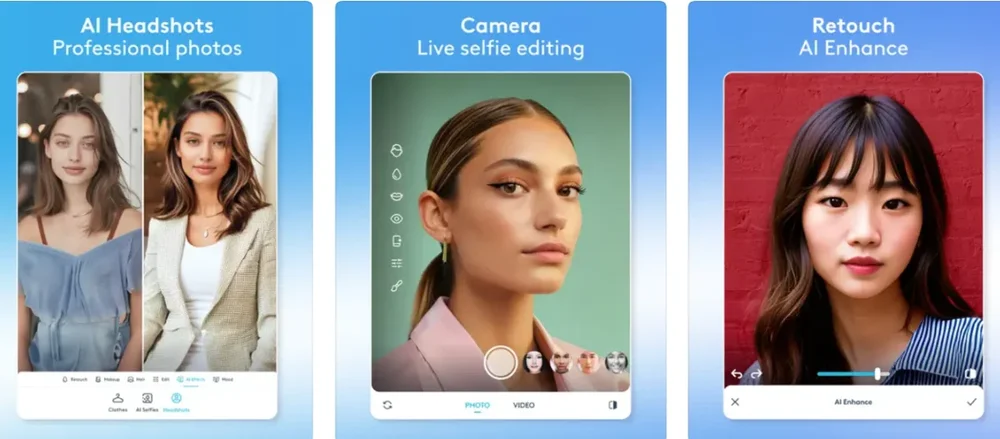 Среди преимуществ программы PICSPLAY 2:
Работа с кривыми и каналами RGB;
Автоматическое улучшение;
Текстуры и рамки;
Наложение текста, создание постеров, афиш, стикеров, наклеек;
Ретушь портретов, применение «пластики»;
Корректировка освещения, осветление и затемнение.
Универсальная программа для обработки фото на айфон с функциями пакетного редактирования и экспорта. Работает в том числе с RAW, что может пригодиться профессиональным фотографам, предпочитающим этот формат. Позволяет проводить детальную обработку в ручном режиме или воспользоваться встроенными фильтрами. Пользователь может создавать и сохранять свои собственные пресеты, наложить фото на фото, заливать снимок единым цветом, экспортировать результат на различные популярные интернет-площадки.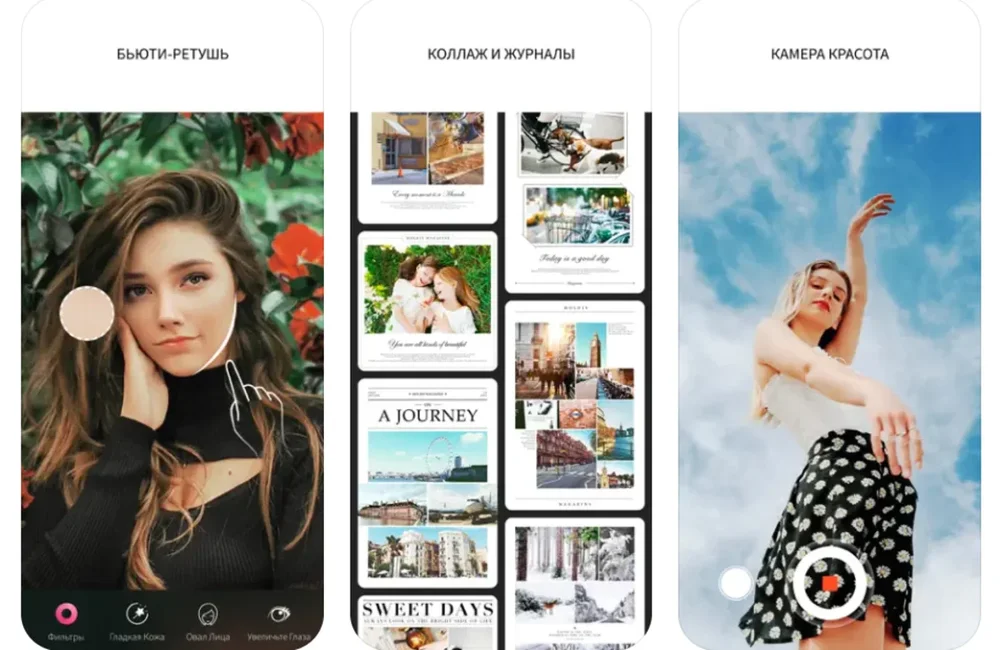 В функционал приложения входит:
Создание рамок с учетом основной цветовой схемы;
Изменение и восстановление RAW;
Исправление кривых и каналов RGB;
Инструменты для вырезания фото, копирования и вставки;
Управление хэштегами.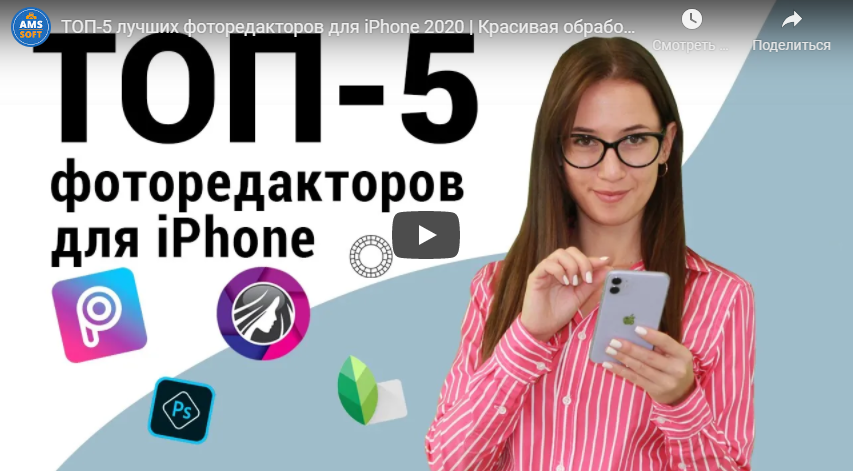 В статье мы рассмотрели топ-10 лучших бесплатных редакторов для iPhone. В качестве универсального софта можно назвать приложение
Snapseed, среди специализированного – стоит обратить внимание на редактор PhotoDiva. Скачайте это простое приложение для качественной обработки портретов и улучшите свои снимки прямо сейчас!
Вам также может понравиться
With so many options to choose from, what are the best photo editing apps for iPhone this year?
Whether you're looking for free photo editing apps or you're willing to pay for advanced features, this guide will help you discover the top options.
The iPhone camera is an amazing tool for photographers, but you'll need to edit the photo to get the most out of it.
Highly Recommended
iPhone Photo Academy
The fastest, simplest and most fun way to improve your smartphone photography skills this year.
Use link to save 80%
Check Current Price
Thankfully, the photo editing tools available for iPhone in 2023 are powerful, easy to learn and a lot of fun to use.
(Many of the apps below are actually top photo editing apps for iPhone, Android, Mac, PC and even iPad and other tablets.)
Here's our list of the best photo editing apps for iPhone that you should install today.
11 Best iPhone Photo Editing Apps in 2023
1. Snapseed
Best for: everyday photo editing | Android & iOS | Price: FREE
Android, iOS
Wide range of editing tools
Simple to use
Free photo editing app
Selective adjustments
Double exposure
Snapseed is the best free photo editing app for iPhone. It has multiple adjustment tools that you can use in auto mode or manually.
You can do selective editing as well, thanks to its masking tool and some advanced edits such as Curves and Healing.
There are many one-click solutions too that allow you to easily change the looks of your picture from grunge to black and white and others. It also has some special effects, such as double exposure and HDR.
Finally, you can also add frames and text to your images. Once you're done, you can export or share your projects.
See our beginner's guide to using Snapseed >>
2. Adobe Lightroom
Best for: photo editing and management | Android & iOS | Price: free version (limited) or full version $9.99
Advanced editing tools
Creative cloud
Camera app
Apply presets
Create your own presets
Supports raw files
Adobe Lightroom mobile is a portable version of the one used on desktop Mac and PC computers – it has all the tools, and you can sync your presets, images, etc. This is only possible if you have a paid Adobe subscription because there isn't a free Lightroom for desktop – check this guide for how to buy Lightroom.
However, even the free Lightroom mobile version is very powerful – you can use it for capturing, organization, sharing and many of the editing features. It's an amazing app for improving photo quality.
The Adobe Lightroom photo editing app also features a built in camera, with any photo saved automatically to the cloud if you're a subscriber to one of the Photo plans. This online storage makes it super-easy to work across devices, with all your edits kept in sync.
Once you get the full version of the LR photo editing app, you get access to the selective edits, geometry tools and the healing brush. This is one of the best photo editing apps for iPhone that allows you to work professionally because it communicates with all the Adobe apps in the Creative Cloud ecosystem.
You'll also find lots of tutorials inside the app to improve your skills, and you can access the Lightroom community for inspiration via the Discovery section.
What are some aesthetic photo editing apps?
3. Pixelmator Photo
Best for: photo editing and management | iOS | Price: $7.99
Supports raw files
30+ color adjustments
Repair tool
Machine learning
Photo browser
ML Enhance feature for auto adjustments
Nine presets groups
Batch editing
Pixelmator Photo is a desktop-class photo editor app, and it supports raw formats from over 600 cameras. The included photo browser has a pleasing filmstrip design, and it works in sync with your iPhone's native Library from the Photos app.
So, not only is it one of the best photo editing apps, but it's also a great photo manager. You can use the ML Enhance feature for the smart auto-adjustment for quick edits. You can later fine-tune your image, or you can do everything on your own using all the non-destructive photo editing tools.
The app offers a machine-learning denoise tool to reduce noise and image-compression artefacts automatically. You can also choose from more than 30 color adjustments and nine unique preset groups to give your images a creative touch.
Note this is different from Pixelmator Pro, the Mac app.
4. Adobe Photoshop Express
Best for: general photo editing | Android & iOS | Price: FREE
Creative Cloud
Multiple editing tools
Enhanced vignette
Split-Tone
Blend modes
Eye correction
Remove unwanted blemishes
Photo filters
Up until recently, Photoshop Express was only a part of the Photoshop family for iPhone photography together with Adobe Photoshop Fix and Photoshop Mix.
Currently, Adobe decided to merge all three photo editing apps into a more powerful version of Photoshop Express. If you have any of the other two apps, you can continue to use them – but they are not in the app store anymore.
Photoshop Camera is still a separate editing app that allows you to change the looks of your picture before you make it.
If any Android users are reading this article, know that things haven't changed on the Google Play Store, where you can still download all three apps – at least for now.
Among the many adjustments you can make to edit pictures, you can select multiple objects to apply edits selectively or make cut-outs. You can also add blur or remove noise, make a perspective correction and even do makeup transfer for your beauty pictures.
Adobe Photoshop Express allows you to use professional editing tools and fun features for your social feed. For example, you can retouch facial features for a perfect portrait, but you can also turn your face into a cartoon.
Adobe Photoshop Express is one of the best photo editing apps for iPhone, and you can use it together with other apps from the Creative Cloud.
See more Photoshop apps for mobile
5. PicsArt
Best for: fun photo & video editing | Android & iOS | Price: free with ads or $55.99/year
photo collage maker
all-in-one photo editor
fun filters
create stickers
recreate edits
edit images collaboratively
video editor
PicsArt it's an all-in-one app. It has tons of photo editing options, a huge range of creative tools, and it's also a video editor.
The editing options include exposure and color correction, background removal, blur background with an AI smart selection tool, selfie retouching tools, straighten images, multiple photo filters, etc.
You can also use grids for picture collages and templates and scrapbooking using frames, stickers (60+ included and the possibility to make your own), use the drawing tool and more. Your edited photos can become memes and Instagram stories easily.
The video editor has an intuitive interface that allows you to add music – your own or from the in-app library, trim and crop your videos, use the smart video merger, and apply filters.
The free app version has ads that can become annoying – but you can use all the functions. For a free-ad experience, you need a Gold membership that you can pay weekly, monthly or yearly.
It's one of the most expensive but also one of the best photo editing apps. You can use the 3-month free trial to decide whether it's an investment you want to make.
6. VSCO
Best for: filters & photo sharing | Android & iOS | Price: free (limited) or full version $19.99
Photo editing features
200+ filters
Video editing
Social media
Media blender
VSCO is one of the best photo editing apps for iPhone with a social media community. It's the perfect app to share your images and get inspiration without worrying about likes.
It has the same features as other editing apps, plus a huge range of filters developed by influencers and professional photographers.
With VSCO, you can also edit video and give free rein to your creativity by layering images, video, and shapes.
Most of the filters the app offers are paid, but you can still use it as a free photo editor with ten included presets – and you can participate in the community.
If you want to try the paid membership before buying, you can use the 7-day free trial.
7. Carbon
Best for: Black & white photos | iOS | Price: free version (limited) or full version $19.99
58 B&W filters
B&W effects
Grain textures
Dust textures
Light leaks
Bokeh textures
Grunge textures
Carbon is the best photo editing app if you like black and white photography. You can make beautiful monochrome pictures without any photo editing knowledge, thanks to its minimal design.
Simply tap over any of the 58 black and white filters and choose the one you like best. You can also add textures and borders to your photos.
Once you're satisfied, you can add hashtags and share your creations right from the app.
8. TouchRetouch
Best for: remove unwanted elements | Android & iOS | Price: $2.00
Object removal
Line removal
Mesh removal
Blemish removal
TouchRetouch is a photo editing app is dedicated to remove unwanted objects. This isn't a one-trick pony that you'll rarely use. Instead, you can use it for portrait photos to remove blemishes and create smooth skin, also for your travel photos removing tourists in the back, etc.
You can do these things with the healing tool of many editing apps. Still, TouchRetouch has a very powerful algorithm because it's specially developed for this feature – you can even remove the mesh from in front of detailed backgrounds, or remove people from pictrues, such as photobombers!
The results are surprisingly accurate, so for only 2 bucks, it could be an essential photo editing app to add to your tool set.
9. Mextures
Best for: 1-click editing | iOS | Price: $1.99
Edit in layers
Grain overlays
Film presets
Light leaks
Gradients
If you don't want to spend much time fine-tuning lots of features to adjust every picture you take manually, Mextures is one of the best photo editing apps you can get.
It comes with more than 150 textures you can easily apply to your photos. Each one is added in a separate layer so you can customize the opacity and choose one of the 12 blending modes.
You can add virtually unlimited layers and come back to adjust each of them as many times as you want because it works non-destructively.
Also, you do have some photo editing features if you prefer to take matters into your own hands. You'll find tools to adjust the exposure, saturation, contrast and other basic tools.
You can save your workflow and duplicate your edits in other photos or share them with other users. In the same way, you can import formulas from other users and use them in your photos. All in all, this is a fantastic photo editing app.
10. Superimpose X
Best for: Photo composites | iOS | Price: $4.99
Up to 24 layers
Collage tools
Editing tools
Double exposure
Warp
16 adjustment layers
Shadow creation
Text effects
Export as PSD
Superimpose X is one of the best photo editing apps to create photo composites and visual art. This app allows you to create amazing works of art composed of multiple images using masks and layers.
You can work with up to 24 layers and combine them using any of the 18 blending modes and controlling the opacity – it also has 16 different adjustment layers.
You can use separate masks for each layer and save them on a masking library. Multiple masking tools make your selections more precise, and an automatic AI tool helps you mask people out.
You can use the built-in shadow creation tool to make your compositions more realistic. Of course, it also has all the editing tools you'll expect from a photo editor app.
To finish your graphic work, you can add text that can be manipulated with zoom, blur, warp, and more. If you want to keep the layers outside the app, you can export your projects as PSD.
11. SKRWT
Best for: perspective correction | Android & iOS | Price: $1.99
Perspective correction
Lens correction
Auto-crop
4-point manual manipulation
Mirroring tool
SKRWT is the best photo editing app if you're into architecture photography, real estate or interior photography.
SKRWT is specifically developed to correct horizontal and vertical lines distorted by perspective. It even corrects lens distortion even if you didn't take the photo with your iPhone – it works with images from DSLRs, drones, GoPro, etc.
SKRWT has two in-app extensions – 4PNTS and MRRW. Using 4PNTS, you can manually adjust your photo by dragging each corner separately. MRRW offers four mirror effects to control the symmetry in your photos.
How do Professionals Edit Photos on iPhones?
Depending on what iPhone photo editing app is being used, there are many ways a pro could edit their photos.
To keep things simple, since every iPhone owner has the Photos app, here are the basic steps when editing an image:
Update to the latest iOS – with iOS 13, Apple redesigned the photo editor, giving it a wider range of editing tools to touch up your photos and videos. To ensure you have the latest iOS version, go to Settings > General > Software Update.
Work with raw images – if you work with JPEGs, you'll have very little room for post-processing, while raw files have much more information. Since the iPhone 12 lineup, there's a native raw file called ProRaw – if you have a previous iPhone, you'll need to use a third-party app to photograph in raw.
Always back up the original image – even if Photos allows you to revert your edits, it's better to have a copy of the original file before you start editing. This is useful if you want to keep both versions or edit the same photo in different ways.
Straighten – the first thing you want to do is straighten your photo and adjust the perspective if it needs it.
Crop – often, when you adjust the perspective, some pixels remain empty, or other parts go out of the frame. With the crop tool, you can reframe your photo to your liking. Both tools are in the same menu – you'll also find the tool to rotate, flip, etc. You can also crop your images to change the aspect ratio – for example, make it a square 1:1 format to use as a profile picture or upload to Instagram.
Adjust the light – the next thing you want to do is edit anything related to light and exposure. Here, you can control the highlights and shadows, adjust contrast and brightness, etc.
Adjust the colors – once you're happy with the exposure settings, you can move on to edit colors.
Use depth control and lighting if it's a photo taken in portrait mode – if your image is not on Portrait mode, you won't have these editing tools. However, Portrait Mode allows you to control the background blur and lighting effect.
Add a photo filter (optional) – once you're done with your manual edits, you can finish your photo editing by adding a filter. This is useful for maintaining a consistent style or adding a creative touch.
Save – when you finish editing your photo, click Done. This will save your image in the Library, and it will replace the original photo – that's why I advised you to keep a copy. If you change your mind later, you can always remove the edits because the Photos app works non-destructively.
How Can I Make My iPhone Take Better Photos?
Before you even get to using photo editing tools, there are several steps to take to ensure your iPhone takes better photos.
Update to the latest iOS – The default iPhone photo editor in iOS 13 includes Photographic Styles, Macro mode, Scene Detection, Mirrored Selfies and more. Depending on your iPhone model, you could take advantage of these new features to take a better photo.
Clean your iPhone camera lens – a smudged lens is the biggest cause of blurry iPhone photos. Wipe yours on your shirt before each shot to keep it clean.
Keep it steady – lock your elbows into your body while holding your iPhone to ensure your shot is as steady as possible. This will help keep every photo sharp.
Use a remote – did you know you can use the volume switch on your iPhone earphones to take a photo? This can help with keeping the phone steady and also help you take a less awkward selfie.
Shoot in raw – not all iPhone models support ProRaw – the native format for raw images. If this is your case, you can download a camera app to shoot in raw. From the photo editing apps recommended here, you can try Adobe Lightroom Mobile.
Enable grids to improve your composition – all iPhones have a grid with the rule of thirds to help you improve your composition skills. Also, you can download a camera app with other grids to learn the golden spiral, triangles, etc.
Lock the focus point – tap and hold on the main subject to lock the focus point. This way, you'll be sure to have sharp images.
Adjust the exposure – you can darken or brighten your photo's exposure before taking it by moving the yellow slider up or down.
Use the correct shooting mode – inside the camera app; you'll find different shooting modes. To make the most out of your iPhone, you should take advantage of these tools. For example, if you want a bokeh background use the Portrait mode to get lens blur – if you're working in low light, use Night mode, and so on.
Try live photos – using live photos, your iPhone registers a series of images in sequence that can be animated as a GIF or a short 1.5-second video. This feature is helpful to improve your photos because it allows you to choose the best frame and save it as a still image – you'll never have a portrait with closed eyes again.
Clean up your storage – having thousands of photos in your iPhone camera roll is the norm, but you can usually improve the performance of your phone overall if you delete some or all of the photos.
Of course, once you've nailed the photoshoot, you can move on to improving your post-processing skills. In this article, we selected the best photo editing apps for you to choose from.
iPhone Editing Apps: FAQs
How can I get rid of blemishes on my iPhone photos?
Unfortunately, the native photo editor Photos doesn't offer blemish removal. So, you'll have to download a third-party app. Some of the best editing apps to get rid of blemishes are Snapseed, TouchRetouch, Photoshop Express and Lightroom – although many others have this feature.
What is the best filter app for iPhone?
VSCO is also one of the most popular filter editing apps because of its social media feature. However, if you're not interested in the community part of it – Mexture is one of the best filter-based photo editor.
Does Apple have a photo editor?
Apple's photo editor is called Photos, and it's available for Mac computers, iPhones and iPad. It has a Library to organize your photos, on-device machine learning, photo editing tools and some graphic tools to draw or write.
Is there an iPhone photo editor online?
There are lots of free ways to edit your iPhone photos online – Fotor, Pixlr, Canva, Pixelmator, etc. Most of them allow you to upload your iPhone photo and use their editing tools to alter your image.
How to edit car photos on iPhone?
To edit car photos on your iPhone, you'll need to follow the next steps:
1. Instal one of the apps mentioned above that best suit your needs
2. Make sure you duplicate the original photo so you can have a backup version
3. Head to the apps tools to straighten, crop, and adjust the perspective of the photo
4. After that, modify the contrast and saturation and remove any imperfections
5. Save your edited photo
Does editing photos on iPhone reduce quality?
Sadly, editing photos on iPhone does reduce quality. This is because the images are compressed within the apps to save storage, which means you'll lose some detail.
What are the best photoshop apps for the iPhone?
Some of the best photoshop apps for iPhone include the following:
1. Adobe Lightroom CC
2. Snapseed
3. VSCO
4. TouchRetouch
5. Enlight Photofox
6. Adobe Photoshop Express (PS Express)
7. Picsart
Final Words
I hope you like our selection of the best photo editing apps for iPhone. You should find that most are actually also available for other mobile devices, such as Android phones, iPads and Android tablets.
As you can see, some of them are multi-purpose photo editing apps, while others are specialized in certain edits. Others are professional photo editing apps, and others are one-click solutions. It's difficult to pick one out as the absolute best photo editor app – it's more about which one is the best for your needs and skills.
In the comments, let us know which ones you think are the best photo editing apps for iPhone and what you like about them. Thanks for reading!